A look back at European PP, PE markets in 2018: LDPE, LLDPE near 4-year-lows; HDPE, PP stand relatively firm
In Europe, spot LDPE and LLDPE prices have tracked a downward path for the most part of 2018. As a part of the global phenomena, however, spot PP and HDPE markets have faced less volatility.
LDPE, LLDPE erode 13-14% since early 2018
In the PE market, comfortable supply is cited as the reason behind the constant weakness of spot LDPE and LLDPE prices. The markets are currently standing 13-14% below the beginning of the year, close to the lowest levels of the last 4 years, based on the weekly average data from ChemOrbis Price Index. There was a sharp jump in May, but it was not sustained as the markets gradually cancelled their gain in the following months, as can be seen from the graph prepared by ChemOrbis Price Wizard tool.
Spot ethylene tumbles down to 2-year-low
The plunge of spot ethylene prices across Europe also found reflection on LDPE and LLDPE prices particularly after August. The ethylene market has lost ground by around 30% since then, currently standing at a 2-year-low, according to the weekly average data from ChemOrbis Price Wizard.
HDPE still held firm for 6 months despite plunging ethylene
Unlike LDPE and LLDPE, spot HDPE prices have mostly shrugged off the slumping ethylene costs. Although ChemOrbis Price Index suggests an 11% decline on average in LDPE and LLDPE in the second half of the year after the visible spike in May, the HDPE market managed to hold fairly firm in the range of €1210-1250/ton on average until December. Limited supplies for this product mainly helped prices maintain their strength in the second half of the year.
PP markets have outperformed PE throughout 2018
PP prices have displayed a stronger performance than PE during 2018 even though demand for both products has not been so bright. In the second half of the year, both homo PP and PP block copolymer markets traded at least €50/ton above the first half across Europe, as can be seen from the graph prepared by ChemOrbis Price Wizard tool.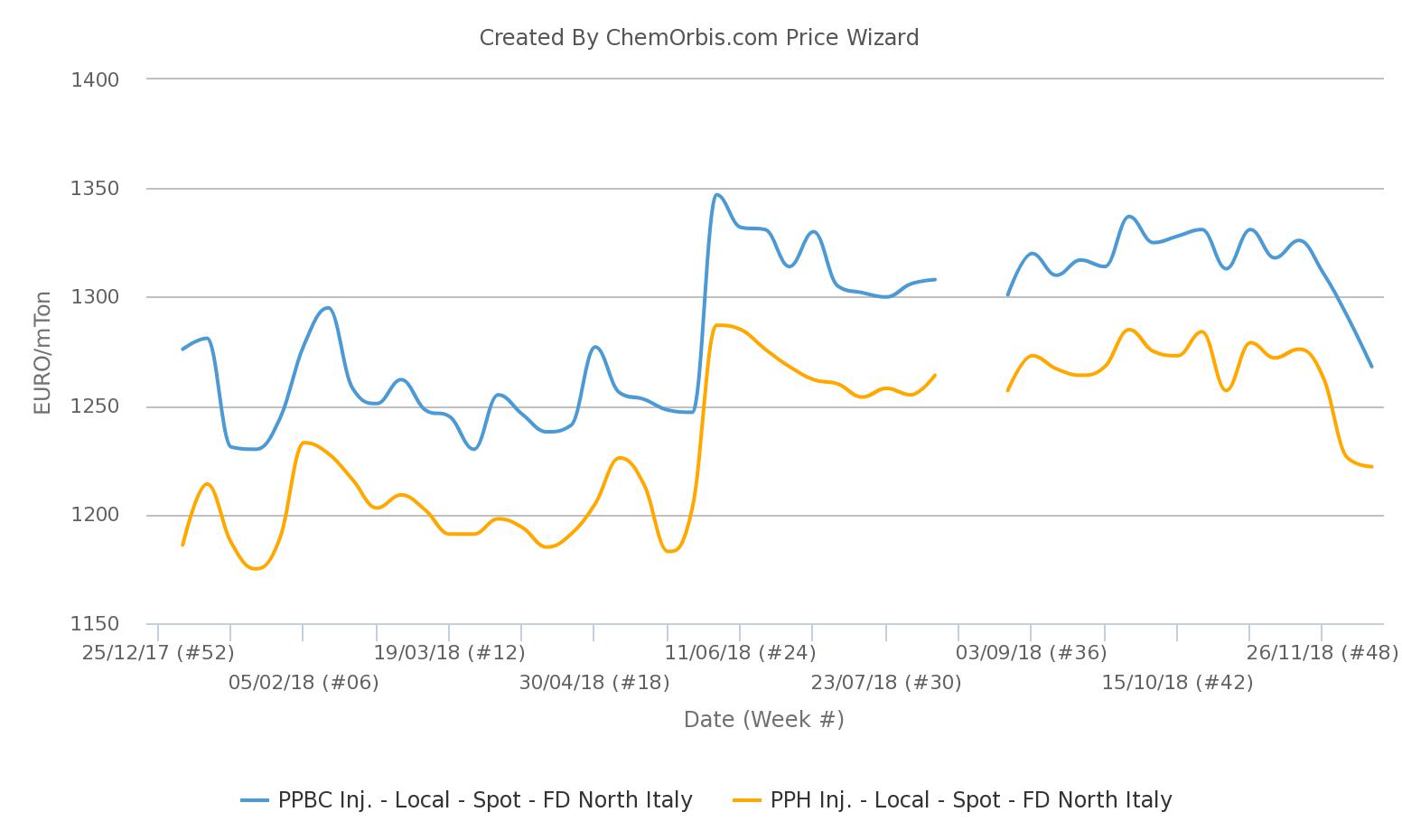 PP found support from propylene from May to October
The European PP markets were relatively firm above the €1250/ton threshold for homo PP and €1300/ton for PPBC between June and December, according to the weekly average of ChemOrbis Price Index. The spot propylene market, meanwhile, hit an almost 4-year-high in June and hovered around this peak until October, which provided support for the firm stance of the PP market.
Propylene slump in Q4 has little reflection on PP
However, the spot propylene market has been steadily falling throughout the last quarter and has recently touched a-year-low. Although it lost by around 25% since then, based on the weekly average from ChemOrbis Price Wizard, its reflection on the PP market has been rather limited in the same timeframe.
PP sellers managed to protect margins amid production outages
PP sellers appear to have kept their margins in Europe by conceding to smaller discounts in their deals lately on the back of limited supplies. According to players, supply is not tight but balanced with demand. Braskem issued force majeure on PP supplies from Wesseling plant on December 7 due to C3 shortage while the PP plant of INEOS at Grangemouth has been offline since September and a force majeure has been in place since November 28 after failed restart attempts.
More free plastics news
Plastic resin (PP, LDPE, LLDPE ,HDPE, PVC, GPS; HIPS, PET, ABS) prices, polymer market trends, and more...