A look back at Turkey's PVC markets in 2021: Supply curtailments push prices to never-before-seen highs
The key driver of Turkey's PVC markets has remained availability constraints throughout 2021. The persistently inadequate allocations from its top supplier, Europe, continued to wreak havoc on the market, pushing prices to the highest levels across global PVC outlets.
Turkish players complained about persistently inadequate volumes from regional majors including Kem One, Vynova, and Inovyn for the most part of 2021. This was due to long production hiccups at producers as well as high domestic demand in the region, not to mention delivery disruptions.
PVC faced abrupt hikes in most of Q1
Prolonged supply issues gave Turkish PVC players a rough ride throughout the second half of 2020, with tightness sparking the longest-ever uptrend in the country. The rally caused duty-free PVC K67 prices to carry an atypical premium over Europe's spot markets until very recently.
Through Q1 2021, the market mostly followed an uptrend, disregarding a short-lived softening in February when sellers yielded to buyers' resistance toward inflated price levels. From late February to mid-April, duty-free K67 prices spiked $430/ton (29%) in total, while dutiable offers rose $383/ton (27.5%) in the same period.
In April, PVC prices took a breather from the bullish run. Hikes staggered as some European suppliers resumed offers to Turkey, albeit in modest volumes. Also, US plants gradually restarted following widespread shutdowns in the aftermath of freezing storms in February. Another factor that influenced Turkey was the shaky sentiment in Asia, where prices had leveled off after a 9-month bullish run by spring.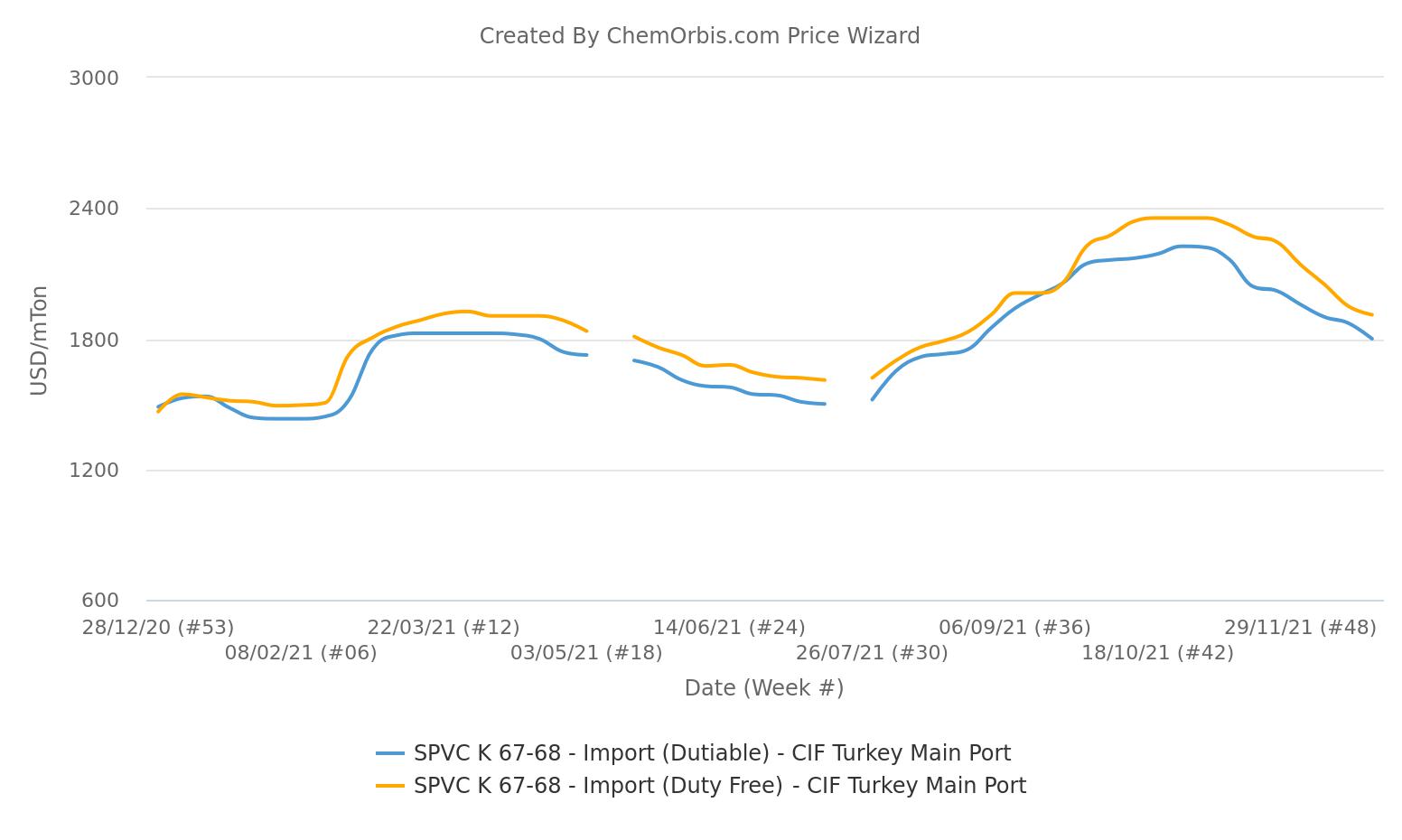 May-June drops miss buyers' expectations
The downtrend gained momentum moving into H2 as a pandemic-induced lockdown imposed by the government mitigated the impact of supply constraints. More importantly, Turkish converters pointed to their inability to compete in export end markets with overheated prices and preferred to buy hand-to-mouth. The traditional Ramadan lull added to the pressure in early Q2.
Nevertheless, the duty-free K67 market shrank $315/ton (16%) during the downslide, while the total loss for dutiable origins was $325/ton (17.8%). This is to say, the market reached the bottom before entirely erasing its previous hikes.
Market turns up after Eid al-Fitr holiday in July
PVC prices shifted up in August once again as pent-up demand coupled with logistic mishaps sent prices to new all-time highs in the import market. As compared to the gains in other markets, Turkey faced tremendous increases due to the fact that it is highly dependent on imported PVC, not to mention the massive freight differences with the Asian markets.
According to the ChemOrbis Price Index, the import market reached a peak in October when duty-free and non-dutiable K67 prices hit new all-time highs of $2355/ton and $2225/ton, respectively, on a CIF Turkey basis. During the uprun from August to April, the markets soared by $725-745/ton (46-48%).
Year-end witnesses large declines as poor demand stands out
PVC signaled stabilization in late October, however; since the off-season, economic woes and buyers' resistance to record high offers loomed over the market.
The impact of a free-fall in local currency in November and December has taken a heavy toll on local activity, while import buyers were also sidelined amid a downturn in most markets. Sellers yielded to a lack of demand and depleting activities on the side of traders in China, SEA, India, and Egypt, while export offers out of the USA plunged as well.
Europe was an exception as low producers' stocks and high energy costs mitigated the impact of slightly lower ethylene contracts, year-end festivities, and the lifting of several force majeures within the bloc.
The bubble in Turkey burst as December wore on and prices moved below Europe's spot PVC markets for the first time since August, the weekly average data from ChemOrbis suggested. Aggressive Russian, and Ukrainian sellers coupled with falling Asian offers to Turkey reinforced the downward pressure, not to mention rising volumes from nearby Egypt.
What will Q1 2022 unfold for Turkey PVC markets?
Since the October peak, imported PVC K67 prices have fallen by $355-405/ton (16–17%). Needless to say, prices remain far from pre-pandemic lows, and they may never come back to 2020 levels based on the ongoing logistic hurdles and inflated energy costs across the board.
Nonetheless, players believe that prices still have room to move south in January on the assumption that demand may remain dimmed by the volatile parity. An increased number of origins including Central European, Northeast Asian, and South American continued to add pressure on Turkey moving into the new year.
On the other hand, some players are not ruling out the possibility of pent-up demand ahead of the beginning of the season in March. The Turkish lira rebounded against the USD early in the week following news about the implementation of economic measures by the government, which may help activity to recover in January or February, they say. The USD/lira parity has slumped by more than 70% since 2021 started.
"If parity stabilizes, buyers may return to replace some stocks in H2 January or early February considering the fact that many have been purchasing hand-to-mouth for more than a month," argued a trader. In the long run, players will track the impact of the Omicron variant on oil prices as well as freight issues closely, as a side note.
More free plastics news
Plastic resin (PP, LDPE, LLDPE ,HDPE, PVC, GPS; HIPS, PET, ABS) prices, polymer market trends, and more...