Asia PVC markets decline to 3-month low as downturn fueled by June announcements
Data from ChemOrbis reveal that PVC K67 prices on CIF China/India/SEA basis have retreated to a 3-month low since regional producers started to announce June offers with significant drops led by the Taiwanese major at the start of the week.
The Taiwanese producer
announced steep cuts this week, following 12 consecutive months of price hikes. The June announcement came after a two-week delay prompted by weak demand in India, Southeast Asia, and Taiwan because of the COVID-19 situation. The producer cut prices by $190/ton to China, and by a relatively smaller $150/ton to India and other Asian markets.
Following the Taiwanese producer's lead,
two Southeast Asian producers
also announced three-digit drops to regional markets for June. An Indonesian producer reported that their June offers to Singapore and Malaysia were $210-220/ton lower than May. A Thai producer also reduced June PVC offers to Malaysia by $190/ton.
Import K67 down 8-10% in 5 weeks in India, SEA
As can be seen in the below graph created by ChemOrbis Price Wizard, import PVC prices in India and Southeast Asia started to retreat weeks before the initial June announcements. This was because of a plunge in demand amid the regional countries' battle with the deadly second wave of COVID-19 infections.
Since the downtrend kicked off in around late April, the weekly averages of PVC K67 prices on CIF India/SEA basis have witnessed cumulative decreases of 8-10%. Prices had hit their all-time highs in mid-April, meanwhile.
PVC K67 prices on CIF China basis started to retreat from their record high levels three weeks ago and have lost 11% since then.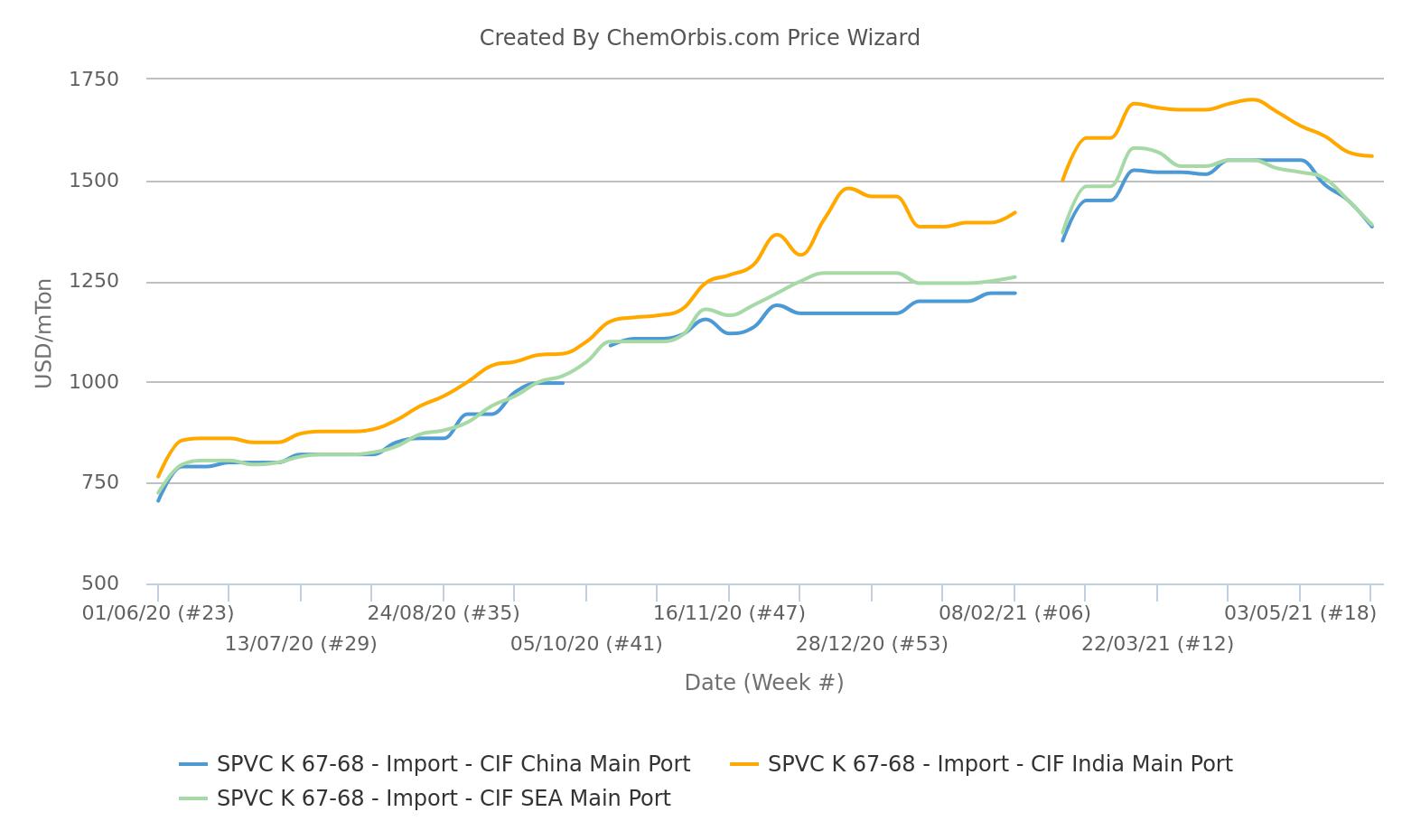 Sentiment remains bearish as Covid hinders demand recovery
Market sentiment has remained weak given the impact of rising COVID-19 spikes across Southeast Asian countries, as well as rising coronavirus infections in major producer countries including Taiwan and Japan. Taiwan has raised its Covid alert level to June 14.
Meanwhile, the ongoing Indian Covid health crisis continues to overcast the region's recovery process.
The Covid situation in China, meanwhile, has continued to be kept under control. However, the battle with the virus in other Asian countries has weighed on the sentiment in China since overseas sellers are trying to divert their cargoes to the country amid the absence of India, the world's largest PVC buyer.
Indian monsoon onset expected around June
Monsoon rains that mark the start of the four-month rainy season are expected to enter India through the southern coast around June 1, in line with traditional patterns.
During the rainy season, India's PVC demand slows down amid reduced construction activity. Asian suppliers may try to divert their cargoes to other regions, including Africa and the Middle East. However, still-high freight costs could hinder deals.
More free plastics news
Plastic resin (PP, LDPE, LLDPE ,HDPE, PVC, GPS; HIPS, PET, ABS) prices, polymer market trends, and more...