Asian PS, ABS face slight corrections in response to lower styrene
In China and Southeast Asia, some sellers have revised their PS and ABS offers downward to the regional markets following the recent downward corrections of styrene prices in Asia. According to ChemOrbis Price Wizard, spot styrene prices on FOB Korea basis have recently lost slight ground after six weeks of consecutive increases.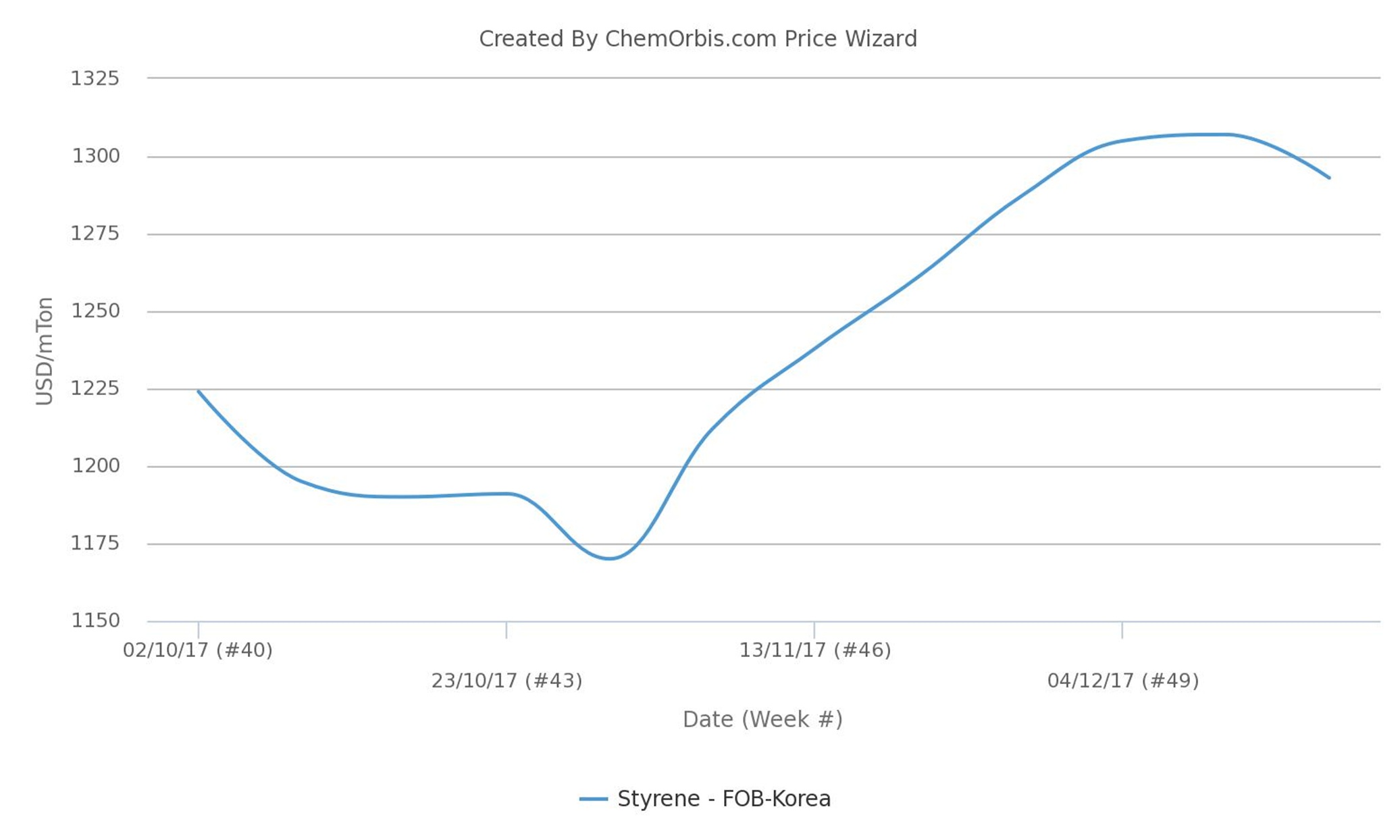 As data from ChemOrbis Price Index suggest, both import PS and ABS prices on CFR China/SEA basis had been mostly following an increasing trend for almost two months. However, some sellers conceded to discounts this week in the midst of softer styrene.
A Taiwanese PS producer revised its offers down by $30/ton from last week to $1530/ton for HIPS injection and $1450/ton for GPPS injection, on CIF China/SEA, cash basis. "Styrene availability is improving inside China in line with the arrival of more cargoes from overseas markets. Lower styrene prices are exerting pressure on the PS market. Buyers have started to retreat to the sidelines in order to monitor the upstream developments," a source from the producer commented.
A Vietnamese producer also cut its GPPS offers slightly by $10/ton from last week to $1480/ton CIF SEA, cash. A producer source also attributed their decision to lower styrene prices, noting, "The market is very quiet as buyers are not willing to make fresh purchases when spot styrene prices follow a downward trend."
Traders reported that a South Korean producer applied some downward corrections of $10-20/ton on its PS and ABS offers to Indonesia.
In China's local market, a PS producer also cut its domestic offers by CNY50/ton ($8/ton) for GPPS and by CNY100/ton ($15/ton) for HIPS when compared to last week. A producer source said, "Overall styrene supplies increased by more than 20,000 tons from last week."
A trader operating in Hong Kong commented, "Despite the ongoing supply tightness of ABS, buyers are growing more cautious about making fresh purchases nowadays since they believe that the current offer levels are too high to be accepted considering the recent styrene losses."
Meanwhile, a few sellers across the region elected to keep their offers stable from last week, saying, "We admit that demand is not as strong as it was in the previous weeks due to the recent downturn of styrene and we might consider giving some discounts if buyers place firm bids. However, we believe that styrene prices will not see any major drops as several plants in Asia will be shut for maintenance in the first quarter of 2018."