Asian PS markets retreat from their one-year high following styrene plunge
PS sellers in Asia softened their stance on offers to China and Southeast Asia last week in response to the recent losses in the spot styrene market. Lower upstream costs weighed on regional demand which was already found unsatisfying since the end of the Chinese New Year holiday. "PS buyers remain sidelined as they are now expecting to receive lower offers," some traders noted.
According to the data from ChemOrbis Price Index, the weekly averages of import GPPS and HIPS prices in China and Southeast Asia slightly softened in the previous week after reaching their highest levels since February 2017.
Despite the ongoing maintenance season in Asia, the weekly average of spot styrene prices on FOB Korea basis have recorded a cumulative decrease of around $65/ton since they hit a one-year high in late February.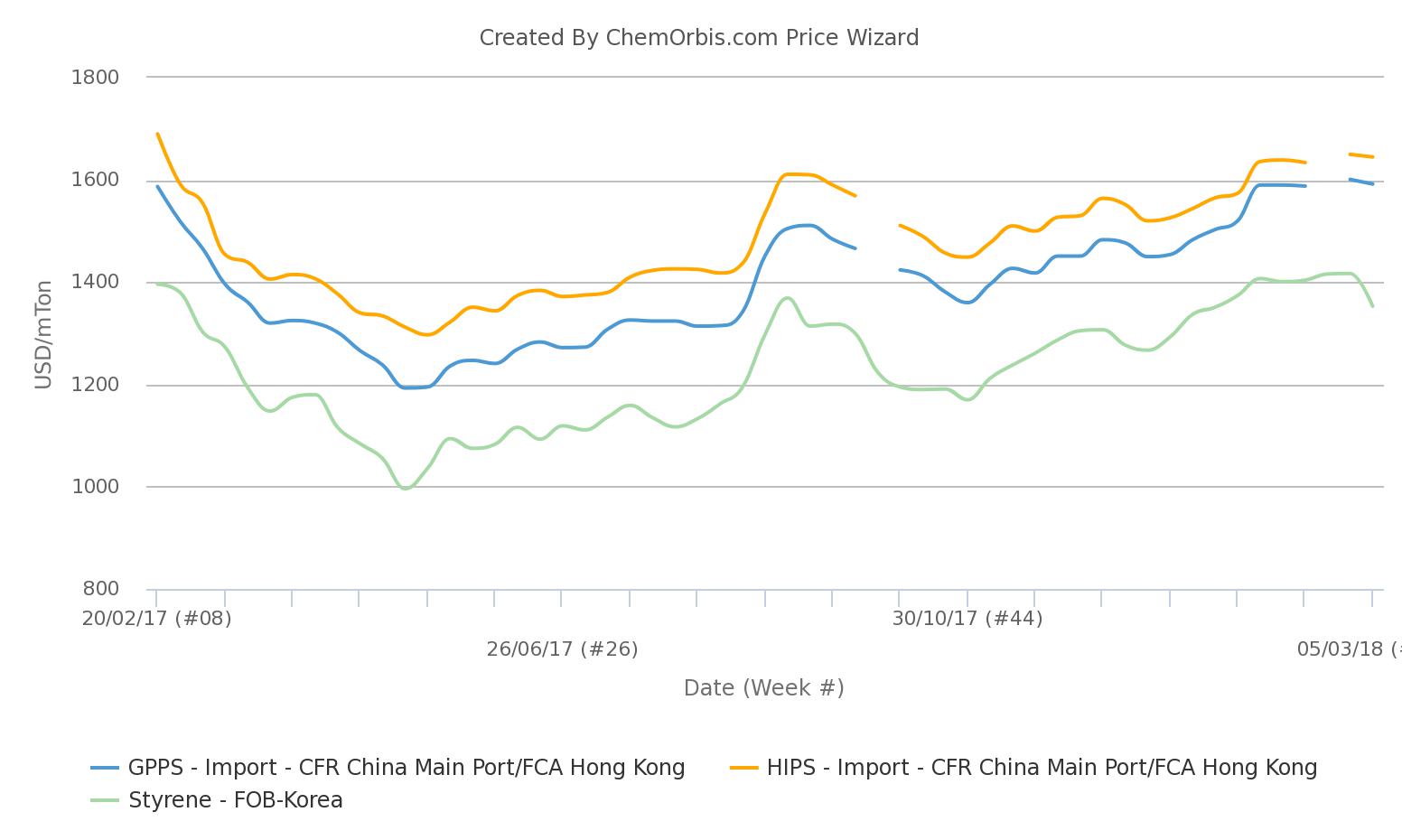 A Taiwanese producer cut its PS offers by $20/ton to China and Southeast Asia last week. "We are adopting a softer stance on our offers owing to styrene's recent downturn. We will consider applying further discounts if styrene continues to drop next week," a producer source opined.
Traders reported that a South Korean producer also cut its PS offers by $20/ton on the week in the face of thin demand and lower upstream costs.
Meanwhile, two Southeast Asian producers elected to keep their offers stable at the previous week's levels. A Thai producer commented, "Our offers are unchanged for now, yet the tepid stance of demand is exerting pressure on the market and we hear that deals have been concluded with decreases so far this week. Supplies are sufficient on the buyers' side."
On the other hand, some sellers interpreted the recent styrene drops as a correction, arguing, "The maintenance season continues and we believe that the styrene market may resume its firming trend in line with lower supply levels." This argument was partially supported by the fact that Asia's spot styrene market closed last week with a slight daily increase.
More free plastics news
Plastic resin (PP, LDPE, LLDPE ,HDPE, PVC, GPS; HIPS, PET, ABS) prices, polymer market trends, and more...