Asian ethylene plummets, propylene pivots on East-West arbitrage
The restart of the LG Chemical and YNCC No 2 naphtha crackers in Yeosu last week, has triggered the aggressive slide in Asian ethylene prices since last Tuesday.
According to ChemOrbis Price Wizard, ethylene spot prices sunk $120/ton from last week, and were assessed at $920/ton CFR China and $880/ton CFR Southeast Asia on January 26.
February ethylene market moves into steeper backwardation
The Asian spot ethylene market flipped to backwardation when Japan's Eneos Corp (formerly known as JXTG Nippon Oil & Energy) ended their slew of spot ethylene and propylene purchases around mid-January. The producer had stepped into the market to purchase ethylene and propylene spot cargoes since January 4 when their Kawasaki cracker had failed to resume operations as planned. The cracker is expected to restart in end January or early February, market sources said.
The producer bought some four to five ethylene cargoes at around $1060-1090/ton CFR NEA and an estimated five to seven propylene cargoes at around $1040-1050/ton CFR NEA, according to traders.
The vacuum left by Eneos was exacerbated by the restart of the LG Chem and YNCC crackers, which added 2.1 million tons of ethylene back into the merchant market, which was already oversupplied prior to the Kawasaki cracker issues.
As of this week, traders think that the market has moved into steeper backwardation, with most of H2 February arrival business done at the range of $930-950/ton CFR China, and H2 February prices being assessed at $875-895/ton CFR Southeast Asia.
"With the absence of Eneos to shore up the spot olefins markets, it's almost a foregone conclusion that ethylene prices would dive. Most end users across China and SEA have been sidelined by what they believe are artificially high price levels, supported mainly by producers or key traders' purchases. Their buy indications have been and are at much lower levels, around the low $900s/ton CFR NEA and below $900/ton CFR SEA ranges," said a Western trader.
Further pressure and lower deals for March arrival ethylene
With crackers in the US beginning to return from maintenance turnarounds by end January, FOB US Gulf prices have been falling, which will see the US arbitrage to Asia re-open for March. Initially, it had seemed like US Gulf prices might be supported by domestic demand and tightness, but the arbitrage to Asia has clearly opened up, traders said.
According to traders, six ships will be lifting between 50,000 to 70,000 tons of ethylene from the US Gulf in February, and these will arrive in Asia in March.
"Asian ethylene prices will likely fall further with the arrival of these deep-sea, ex-USG cargoes. There may be some support for ethylene when the first of the 3-4 maintenance turnarounds start in March. Ethylene prices will likely gyrate between low and high in fairly volatile trading sessions, where prices may even slide to the $800s/ton CFR NEA," said a Western trader.
As can be seen in the graph created by ChemOrbis Price Wizard, ethylene prices trended steadily upwards since December 7, and hit highs of $1060/ton CFR China and $1000/ton CFR SEA on January 11 before plummeting from January 19. Propylene prices had hit a high of $1005/ton CFR China on December 2, before slipping slightly, to $975/ton CFR China on January 11, and holding steady through January.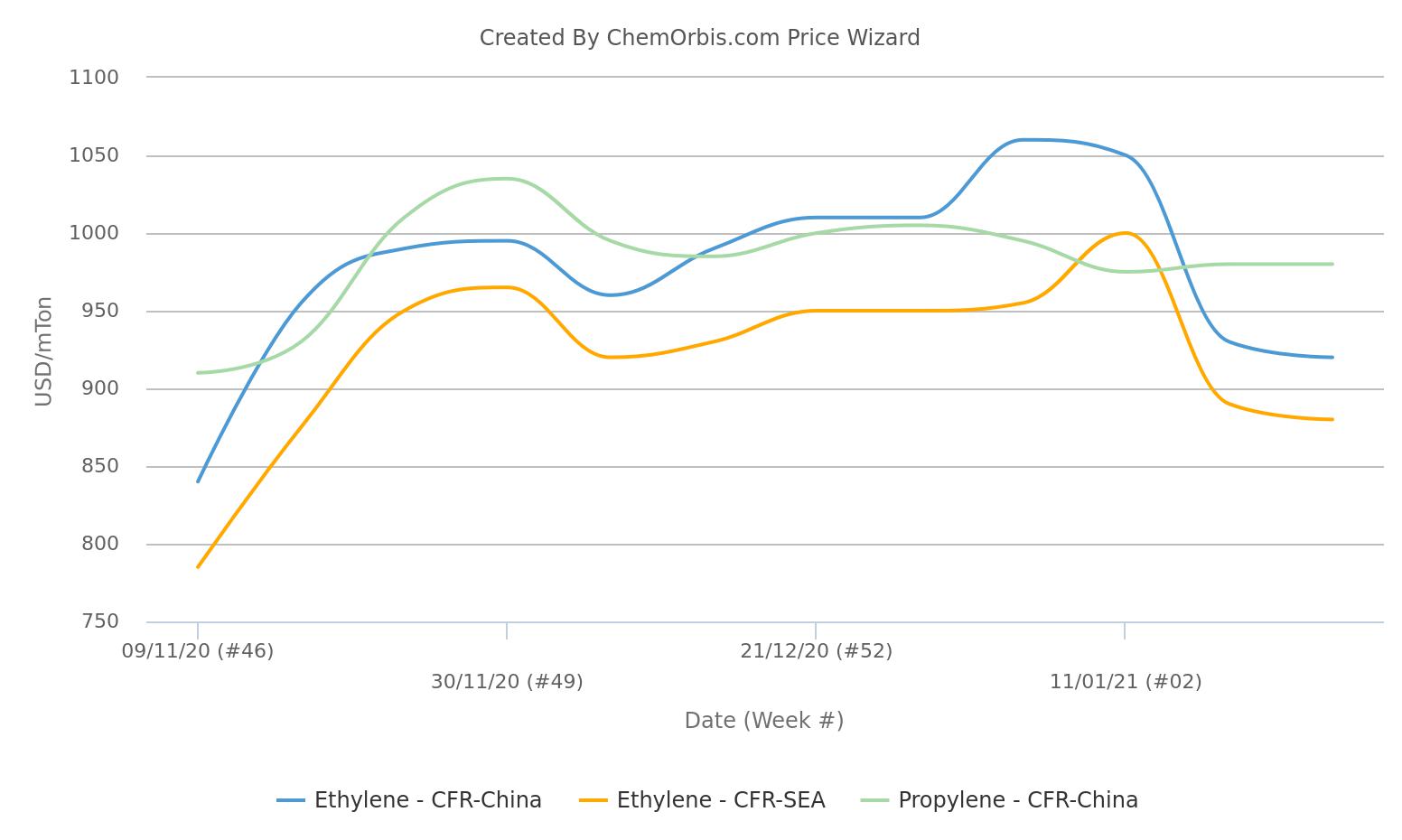 Propylene holds firm, bolstered by East-West arbitrage
Asian propylene prices have been bolstered by the Asia to Europe/US arbitrage since early January. Unlike ethylene, the arbitrage for propylene did not open up from the West to Asia, and instead shifted from Asia to Europe and Mexico, where higher prices in those regions aided to boost and prevent Asian propylene prices from diving as low as ethylene prices.
The earlier tenders by Petro Rabigh and Formosa saw most of the cargoes heading to Europe and Mexico, and landing above $1,000/ton CIF ARA. Another Formosa tender for 10,000 tons was awarded at a jaw dropping $1090/ton FOB Taiwan, with the cargo heard heading to Mexico for February arrival.
"As long as the arbitrage stays open from Asia to Europe and the US/Latin America, propylene prices will be supported, but the arbitrage window is beginning to narrow, and will likely end in March when supply balances out in those regions," a trader commented.
More free plastics news
Plastic resin (PP, LDPE, LLDPE ,HDPE, PVC, GPS; HIPS, PET, ABS) prices, polymer market trends, and more...