China PP market volatile since its rebound in H1 April, is it the new normal?
In the first half of April, China's PP market staged a rebound from its lowest levels in more than a decade as downstream activity started to resume in line with the
lifting
of COVID-19 lockdowns. However, since then, prices have failed to sustain a steadily rising trend as overall demand is still yet to fully recover and it is still very sensitive to the fluctuations of Dalian futures.
"Improving domestic demand could only support a gradual recovery. Overseas demand is still worsening as other parts of the world struggle to contain their outbreaks. Buyers in China are quite sensitive to futures prices, hence the price trend is mostly being shaped by the futures market for the time being," players noted.
PP futures rise on May 13 after days of declines
September PP futures on the Dalian Commodity Exchange settled with a slight increase of CNY85/ton ($12/ton) on May 13 after posting a cumulative
loss
of CNY444/ton ($51/ton) during the previous four settlements.
A local trader commented, "Lower futures had discouraged buyers from replenishing early in the week. However, we might see some demand returning if PP futures can sustain the recent uptick. We think that spot PP prices are more prone to volatility these days."
Local prices down on week, supply still ample
So far this week, homo-PP prices on ex-warehouse China basis have decreased around CNY50-150/ton ($7-21/ton), erasing the previous weeks' gains largely due to retreating demand. Prices for PP block copolymer are also down by CNY100-300/ton ($14-42/ton) on the week.
"Demand has receded amid lower futures, ample supplies as well as the emergence of new cases in Wuhan which has sparked fears of a second wave of virus infections in the country," a trader said.
According to traders, meanwhile, the two major domestic producers' overall polyolefin supplies were still above 900,000 tons as of May 13.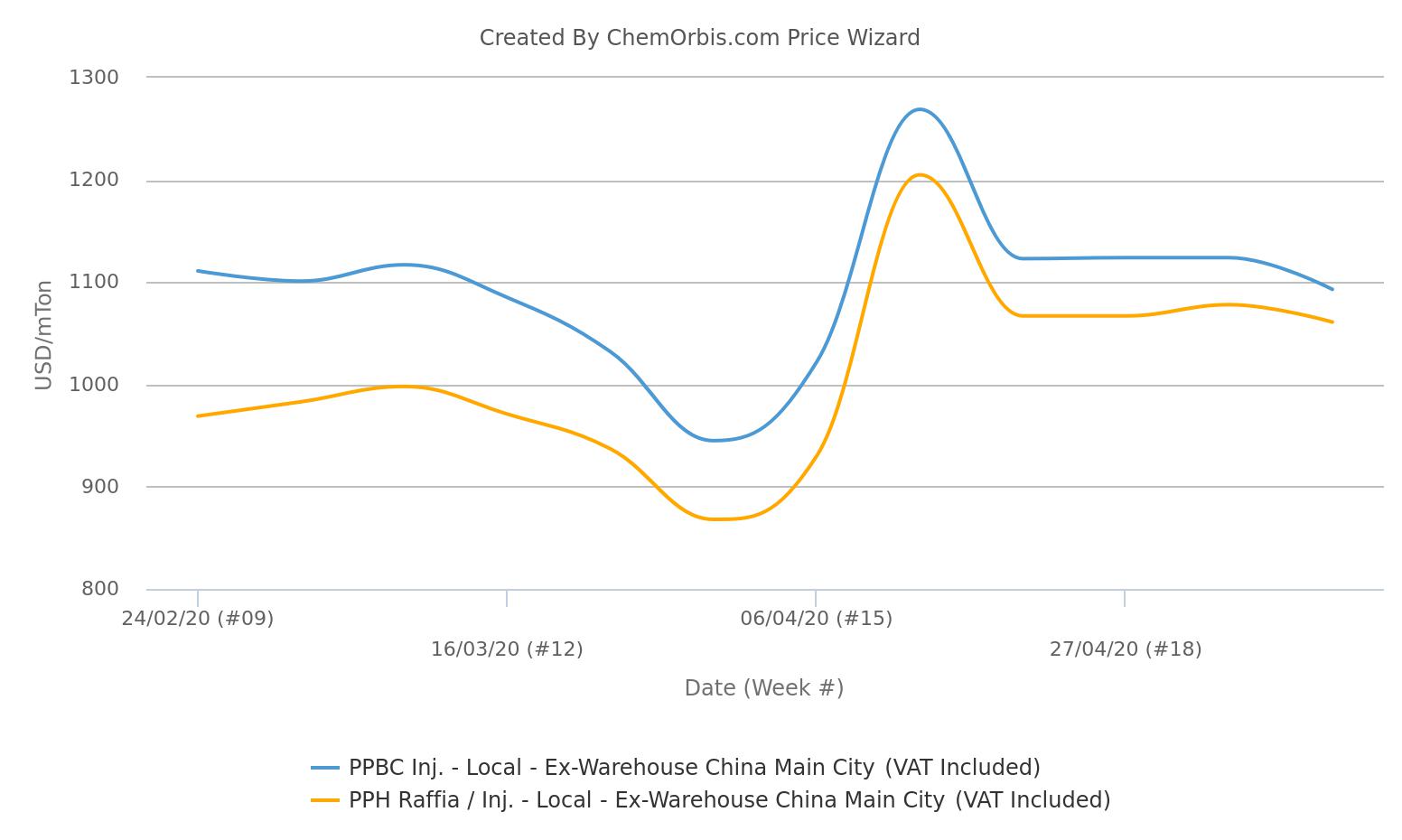 Import activity dull amid limited offers
Meanwhile, in the import market, players reported that there was a limited number of offers from overseas suppliers and trading activity was very low.
Offers for Middle Eastern homo-PP raffia were quoted stable from last week at $800-810/ton CIF China, cash while a trader noted that few deals were concluded at $790/ton on similar terms amid buyers' resistance.
"Sellers are not willing to cut their offers, but demand towards import cargoes has mostly faded this week. Traders' previously purchased cargoes will soon arrive at China ports, which might exert pressure on the market," he said.
Spot propylene rises to 9-week high
Data from ChemOrbis Price Wizard reveal that spot propylene prices on CFR China basis have witnessed a cumulative increase of $160/ton since they rebounded from multi-year lows in the second week of April.
The market has recently hit its highest level in more than two months, data also suggest.
"Overseas PP sellers try to maintain a firm stance on their offers to China, believing that increasing spot propylene prices should support higher price levels at some point," a seller opined.
More free plastics news
Plastic resin (PP, LDPE, LLDPE ,HDPE, PVC, GPS; HIPS, PET, ABS) prices, polymer market trends, and more...