China homo-PP market keeps dropping as bearish factors prevail
by Merve Sezgün - msezgun@chemorbis.com
Homo-PP prices in China have lost further ground as the first half of December draws to a close. The market has remained under the influence of several bearish factors including ample supplies, thin demand, lower futures and the prevailing pressure from upcoming capacities.
Import raffia offers below $900 emerge
A few traders operating in China reported that import homo-PP offers for some Indian origin sources broke around $5/ton below the $900/ton threshold this week. PP raffia prices below this level have emerged in China for the first time since June 2016.
"Despite one Indian producer's firm stance (given its short availability), homo-PP prices from other Indian origin sources continued to witness slight declines due to a lack of buying o-appetite from Chinese buyers," a trader explained.
Offers for Middle Eastern homo-PP raffia also edged lower by around $5/ton from last week, nearing towards the $900/ton CIF level.
Local homo-PP hits lowest level since July 2017
China's local homo-PP raffia market has been on a downward trajectory since the third quarter of 2019 if the two short-lived rebounds in September and in November are disregarded.
Data from ChemOrbis Price Index reveal that the weekly average of homo-PP raffia prices on ex-warehouse China basis has reached its lowest level since July 2017 following the latest round of price reductions.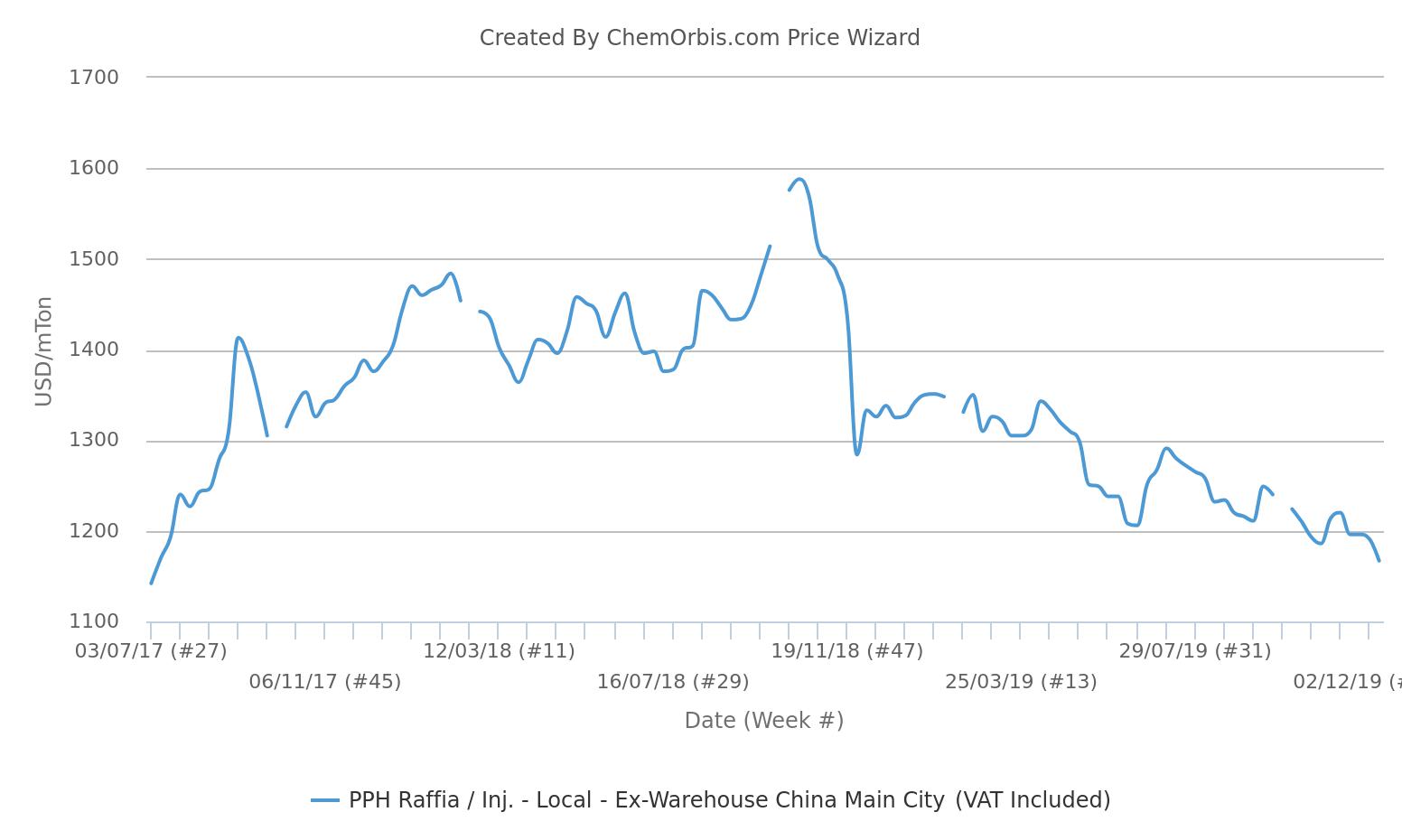 Futures retreat
PP futures on the Dalian Commodity Exchange have registered a cumulative decrease of CNY462/ton ($66/ton) since December 4, keeping buyers away from the market.
"Local homo-PP market has followed softer futures this week. Buyers shy away from fresh purchases when they see futures prices declining," noted a seller.
Oversupply concerns deepen
In addition to already high supply levels of major domestic producers, China is bracing for a significant rise in its PP capacity, which is likely to be among the main factors affecting the market in 2020.
A Ningbo-based trader reported that the two major producers' overall polyolefin supplies increased around 100,000 tons from last week to 750,000 tons. "Local supplies are already ample. Hence the new capacities both at home and overseas are weighing on China's PP outlook," he opined.
Holiday season approaches
The upcoming Chinese New Year holiday has also been deterring buyers from making fresh purchases, a few sellers concurred.
"Deals currently done would result in arrivals near Chinese New Year in 2020, which falls on January 25. Hence we are not rushing to buy for the moment," a buyer noted.
PP copolymers find limited support from reduced supply
Defying the softening trend in China's homo-PP market, both import and local prices of PP block copolymer witnessed slight gains when compared to last week. Players attributed slightly higher price levels to limited availability for this product.
According to data from ChemOrbis Price Index, the gap between the weekly averages of import homo-PP raffia and PPBC injection prices has increased to around $103/ton, the largest since December 2018.
More free plastics news
Plastic resin (PP, LDPE, LLDPE ,HDPE, PVC, GPS; HIPS, PET, ABS) prices, polymer market trends, and more...