China's Jan-May total polymer imports hit a record of nearly two decades
China's cumulative polymer imports during the first five months of 2019 rose 14% on year to more than 10 million to hit the highest in nearly two decades since Chemorbis started compiling the country's import statistics in 2001.
The record numbers keep the world's second biggest economy on track to surpass last year's figures despite the imposition of tariffs on several products amid trade tensions with the US from last year.
Saudi Arabia remains top supplier
The top supplier was Saudi Arabia with imports from the country rising 27% on year to almost 2 million tons during the period. Next was South Korea as imports from the neighbouring country increased 6.5% to a little more than 1 million tons.
Iran managed to move up and overtake Taiwan into the third spot, despite the strong impact of US sanctions on the country's trade. Polymer cargoes from the country rose 13% to slightly above 1 million tons. Taiwan, meanwhile, slipped to the fourth place despite imports from the country increasing 7.7% to around 1 million tons and closely following Iran.
On the other hand, imports from the main party - US - dipped almost 30% to 351,097 tons during the Jan-May period amid the trade tensions. Players are now keeping a close eye on the resumed trade talks after the G20 summit about whether there will be some recovery in the second half of the year.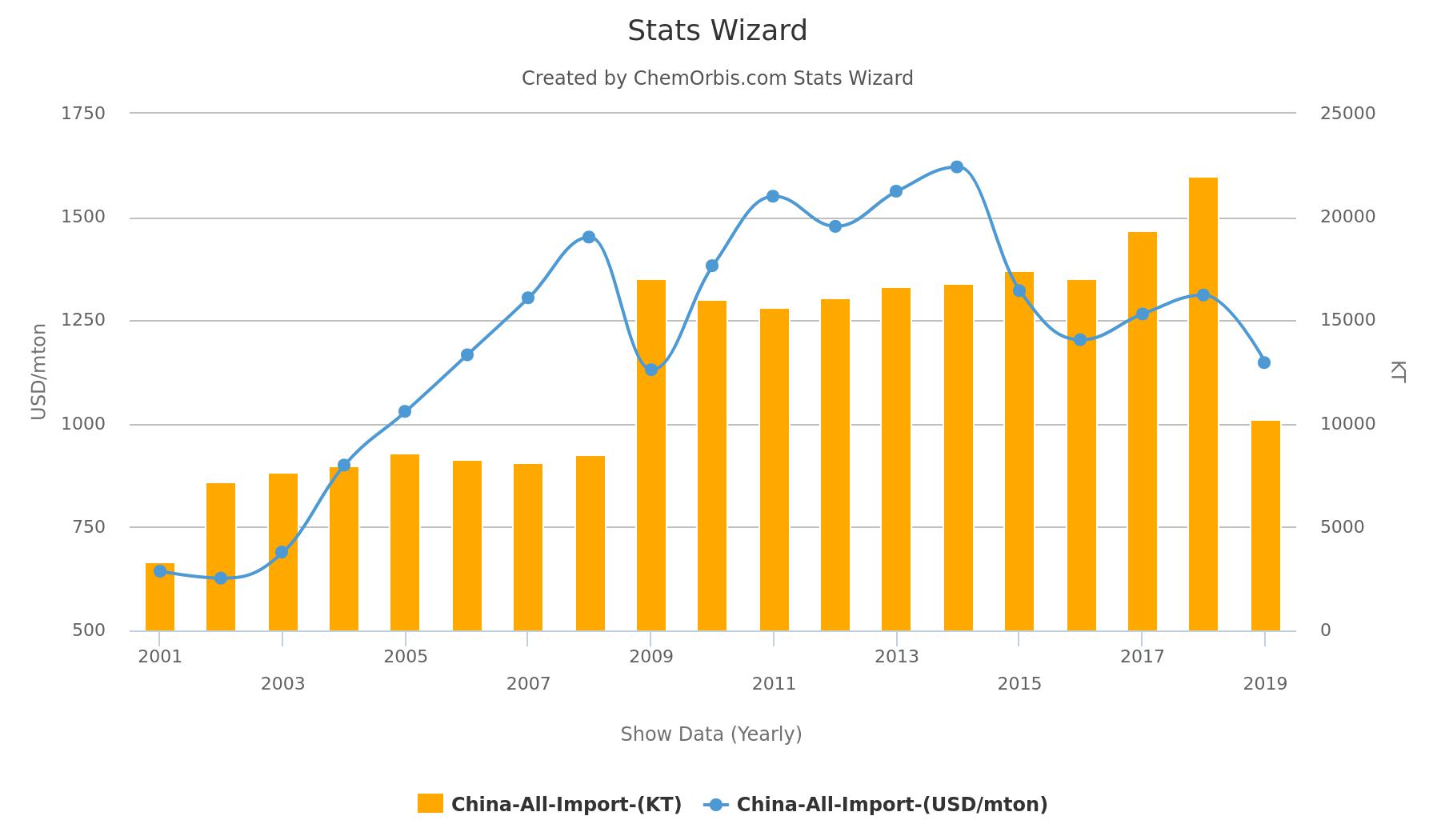 HDPE imports up 14%, US arrivals slump
On a product basis, China's HDPE imports rose 14% on year to 3.2 million tons to hit a record as well. Saudi Arabia topped the suppliers' list with 162,000 tons, followed by Iran at 144,000 tons and the UAE at 70,686 tons.
Imports from the US slumped 83% to 29,499 tons from 172,764 tons during the previous corresponding period. China imposed retaliatory tariffs on LLDPE and HDPE from August last year, which has harmed growing US exports of those grades.
LLDPE imports rise 29% to exceed 2 million tons in 5 months
China's imports of LLDPE increased 29% to more than 2 million tons. Saudi Arabia was again the biggest supplier at 563,295 tons. Singapore was next with 405,348 tons, followed by Thailand at 294,700 tons.
Imports from the US of this grade fell by more than half on year during this period to 47,938 tons from 108,073 tons.
LDPE imports increase 13%, Iran remains top supplier
China imported more LDPE in the first five months of the year, with arrivals increasing 13% to 1,399,000 tons from the same period in 2018.
The largest supplier of LDPE to China was Iran despite the US sanctions at 320,205 tons, followed by Saudi Arabia at 192,982 tons. The US was third at 124,047 tons, with this grade not being targeted by tariffs despite the trade tension.
Homo PP imports retreat amid new capacities coming online
Unlike other polymers, the country imported less Homo-PP from overseas during the period, with imports declining 1.6% on year to 1,352,000 tons amid growing domestic capacities.
South Korea was the biggest supplier with 319,231 tons, followed by Saudi Arabia and Singapore with 185,909 tons and 137,953 tons respectively.
PP Copolymer imports up 17%
China's imports of PP copolymer during the Jan-May period increased 17% on year to 619,000 tons. The biggest supplier was Taiwan with 193,989 tons. Next were Singapore with 151,498 tons and South Korea with 89,244 tons respectively.
This was one of the few categories where Saudi Arabia was not among the top three suppliers. The Middle Eastern country was ranked sixth at 35,954 tons.
PVC imports up 6% and PS 23%
Imports of PVC during the first five months of 2019 increased 6% on year to 284,000 tons. The US shipped the most PVC to China at 135,511 tons. Taiwan was second in terms of volume shipped at 77,959 tons and Japan was third with 37,686 tons.
China's imports of PS during the Jan-May period increased 23% on year to 311,000 tons. The top PS exporter was Taiwan, which shipped 91,510 tons. Singapore and Malaysia rounded off the top three list with 38,489 tons and 33,824 tons respectively.
Will China's growth of imports lose steam in H2?
China's record-high imports in the first five months affirmed the high stock levels inside the country, which was cited as one of the main reasons to push the trend down for most polymers starting from mid-April. The downturn lasted for two months in most polymer markets.
The trade tension also continues to cause woes despite the renewed hopes for a resolution. The US may have to look for alternative destinations to China while China is planning to bring more PP and PE capacities online by the end of this year, which may eventually cut the buying appetite for imports.
China's possibly slower economy is also casting a cloud over whether China will maintain its record-high imports for the second half of the year.
More free plastics news
Plastic resin (PP, LDPE, LLDPE ,HDPE, PVC, GPS; HIPS, PET, ABS) prices, polymer market trends, and more...