China's import PE, PP markets rebounding; but cautiousness remains
Import PP and PE prices in China have rebounded following a 3-month downtrend. The rebound started last week in the PE market while import PP prices have recently followed suit. However, most players remain cautious about the market outlook since demand is still not very strong.
LDPE film has taken the sharpest U-turn among all PE grades, with the weekly average of prices on CIF China basis gaining a total of $75/ton since last week. HDPE and LLDPE film prices have gained around $10-20/ton recently.
Import homo-PP raffia prices, meanwhile, have witnessed a weekly increase of $20/ton. The market had stabilized at its 4-month low in the past two weeks.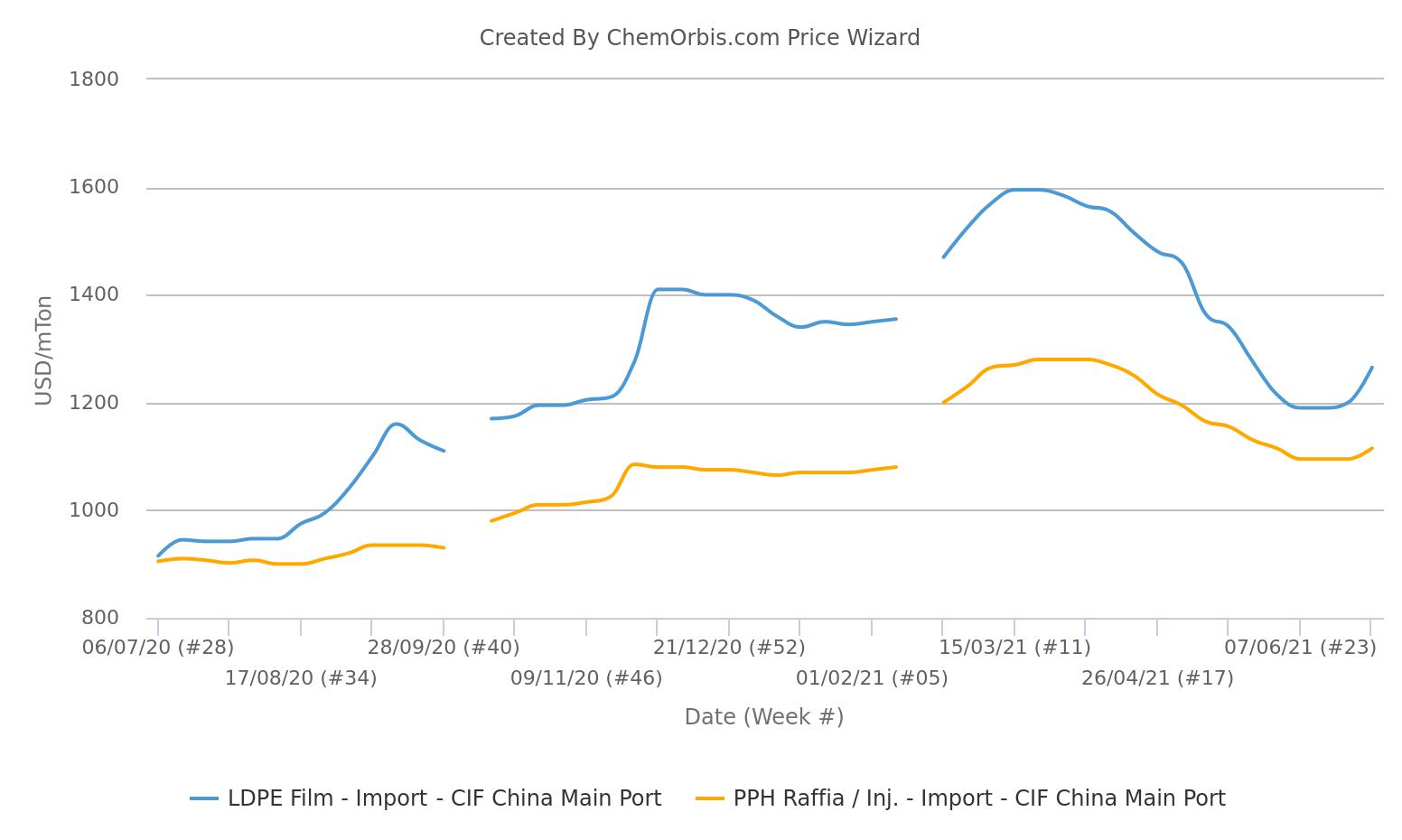 What has propelled prices?
Demand towards import offers have slightly improved lately, but players note that the main factor lifting the market sentiment has been the combination of the bullish crude oil and rising Dalian futures.
"Rising crude oil prices and Dalian futures have boosted sentiment for polyolefins.
However, buyers are still cautious about their purchases due to concerns over Covid in Asia. Buying enquiries have improved recently but purchasing volumes are still limited to buyers' needs," commented a trader.
An agent of a major Saudi producer explained, "On the demand side, there has been a slight improvement due to firmer prices as well as some manufacturers' stocking plans. However, the overall demand is still limited amid the off-season. On the supply side, meanwhile, no issues have been reported. We think that prices may extend their moderate gains over the near term but we still prefer to remain cautious."
A converter in China also noted, "PP and PE prices are rising. LDPE has seen the largest gains compared to other products. But we are not sure about the sustainability of the upturn. Demand concerns persist over COVID-19 infections and electricity shortages in Guangdong. Plus, the upcoming polyolefin capacities in China are likely to put pressure on the markets over the medium term."
More free plastics news
Plastic resin (PP, LDPE, LLDPE ,HDPE, PVC, GPS; HIPS, PET, ABS) prices, polymer market trends, and more...