Delta between China's import ABS and HIPS prices hit all-time high
In China, the gap between import ABS and HIPS markets hit the highest levels since ChemOrbis began keeping records in late December 2011 for the ABS market in the country, bringing the delta between the two markets to around $440-445/ton, according to weekly average prices on ChemOrbis Price Wizard.
Source: ChemOrbis Price Wizard
The widening gap has resulted from the steeper upward trend in the import ABS market compared to the HIPS market, which reflected the surging butadiene costs.
Asian butadiene posted an additional increase of $300/ton over the past week, bringing the cumulative increase amount to $600/ton since early January. Meanwhile, higher spot ACN and styrene costs also supported the strong trend in the markets.
A player opined that the relatively more attractive import PP raffia offers might cause HIPS buyers to meet their needs from this product in order to avoid paying high prices. "PS offers are increasing due to the stronger styrene and butadiene costs. However, our HIPS offers are subject to $10/ton decreases for serious buyers due to weak demand for this product," commented a trader.
According to weekly average prices on ChemOrbis Price Wizard, the gap between import HIPS and PP raffia offers in China reached the highest levels since mid-October 2013 due to softer prices in the import PP market in line with the muted demand in the country before the nearing Chinese New Year Holidays.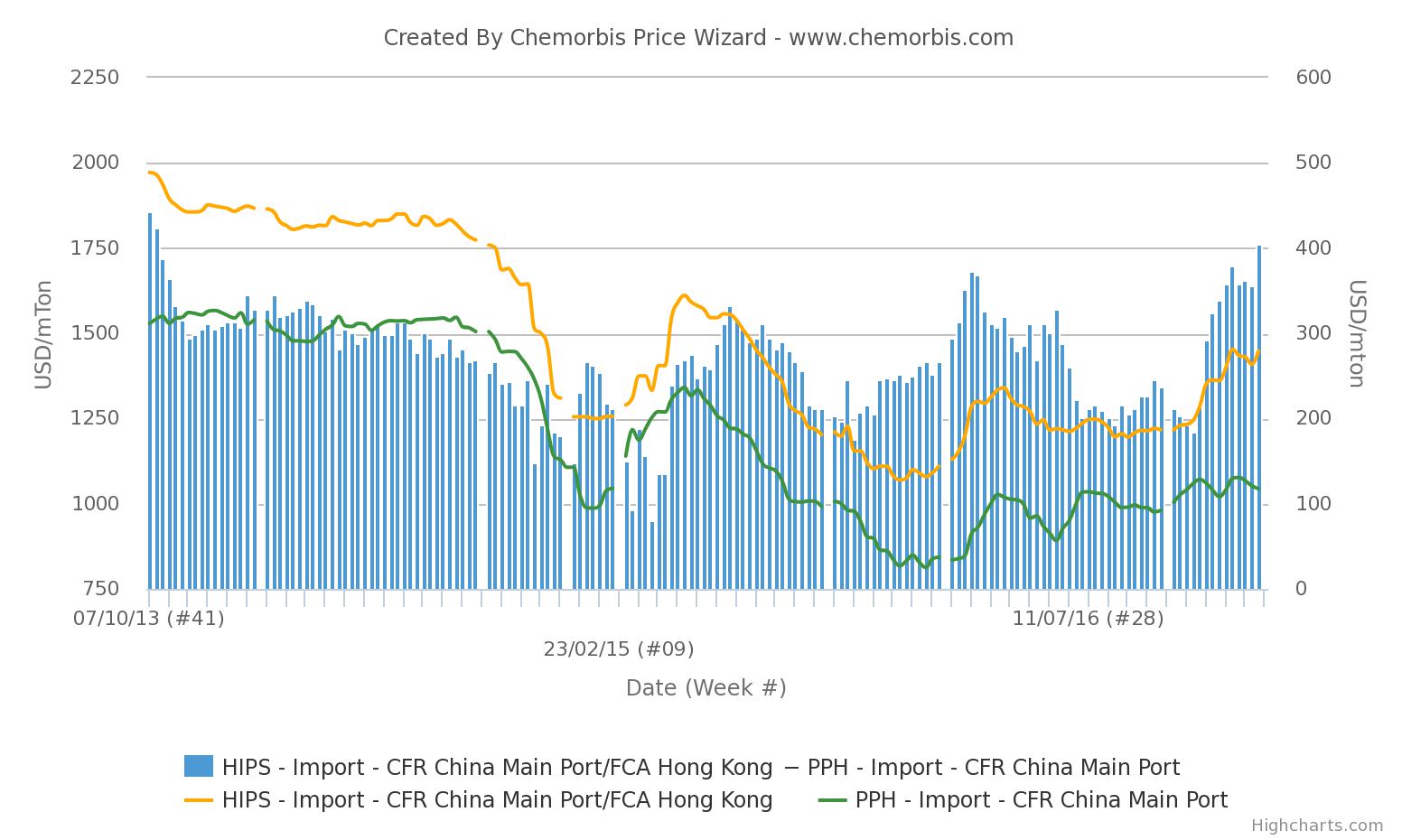 Source: ChemOrbis Price Wizard
More free plastics news
Plastic resin (PP, LDPE, LLDPE ,HDPE, PVC, GPS; HIPS, PET, ABS) prices, polymer market trends, and more...