East African PP, PE markets on rise for July but deals still scarce
In Kenya, a reference country for the East African markets, players saw July PP and PE offers from Middle Eastern suppliers surge from the previous levels in June. However, no deals were confirmed at the time of writing, which suggested that new levels were too high to work in the market.
June ends with stable to firmer PP, PE offers
Kenyan markets tracked a stable to firmer path in June, with the trading largely curtailed by reduced operating rates and movement restrictions. Although the gradual re-opening of economies around the globe underpinned hopes for a better demand in June, the damage done by the virus continued to affect the sentiment.
July offers jump in tandem with global uptrend
In line with the global uptrend, July offers emerged with large increases over last month in Kenya. Offers from several Saudi producers indicated increases of $60-70/ton for HDPE film, $90-110/ton for LDPE film and $70-90/ton for LLDPE C4 film as compared to their previous offers in June. PPH raffia and injection offers saw similar hikes over last month, increasing by around $60-70/ton.
These changes brought the latest levels to $880-900/ton for HDPE film, $950-990/ton for LDPE film, $850-890/ton for LLDPE C4 film, and $920-950/ton for PPH raffia and inj., all on CIF Kenya, 90 days terms.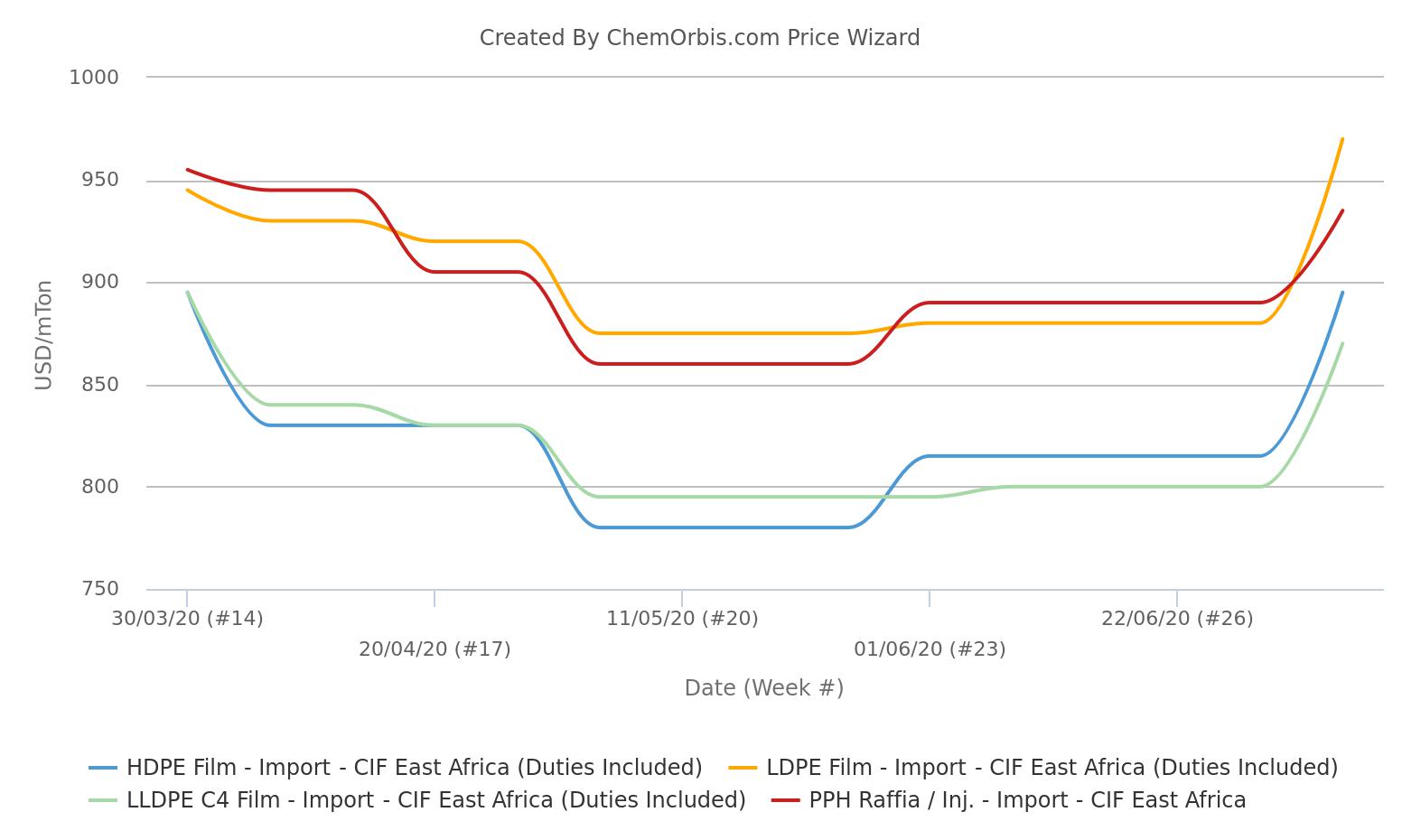 Players find initial hikes too high to work
Most players reported that they found the size of increases unreasonable, pointing at the lack of done deals. However, sellers seemed willing for price discussions, signalling that some discount might be in the offing. "Anything more than a moderate increase of $40-50/ton will be hard to pass on to the deal levels," a trader commented.
Similar trend seen in rest of continent
The latest increases and players' reactions were similar in other parts of the continent.
In West Africa, Nigerian players also called for discounts in deals as the initial July offers from both local and import suppliers saw notable increases. In Algeria and Morocco, two of the reference countries for North Africa, buyers were hopeful that offers might be negotiated lower later in the month.
Kenya adopts cautious approach towards reopening
The resistance that prevailed among players were largely due to the lasting effects of the COVID-19 both on demand and operations. Kenya continues to battle the pandemic as cases continue to rise steadily each day. Although the cessation of movement order that barred in and out of Nairobi, Mombasa and Mandera counties lapsed on July 7, the nationwide dusk-to-dawn curfew was extended for a further 30 days.
More free plastics news
Plastic resin (PP, LDPE, LLDPE ,HDPE, PVC, GPS; HIPS, PET, ABS) prices, polymer market trends, and more...