Ethylene prices in Europe sink to 5-month low, narrow gap with Asia
Spot ethylene prices in Europe ended last week at their lowest in five months, with the market readying for the summer holiday period. On the other hand, the Asian market was unchanged week over week amid thin trading conditions.
European spot ethylene down 24% since May peak
According to the weekly average data obtained from ChemOrbis Price Wizard, spot ethylene prices on FD NWE basis have declined 23%, or around €250/ton, since the bearish trend kicked off in May. The last time prices were at similar levels was February this year.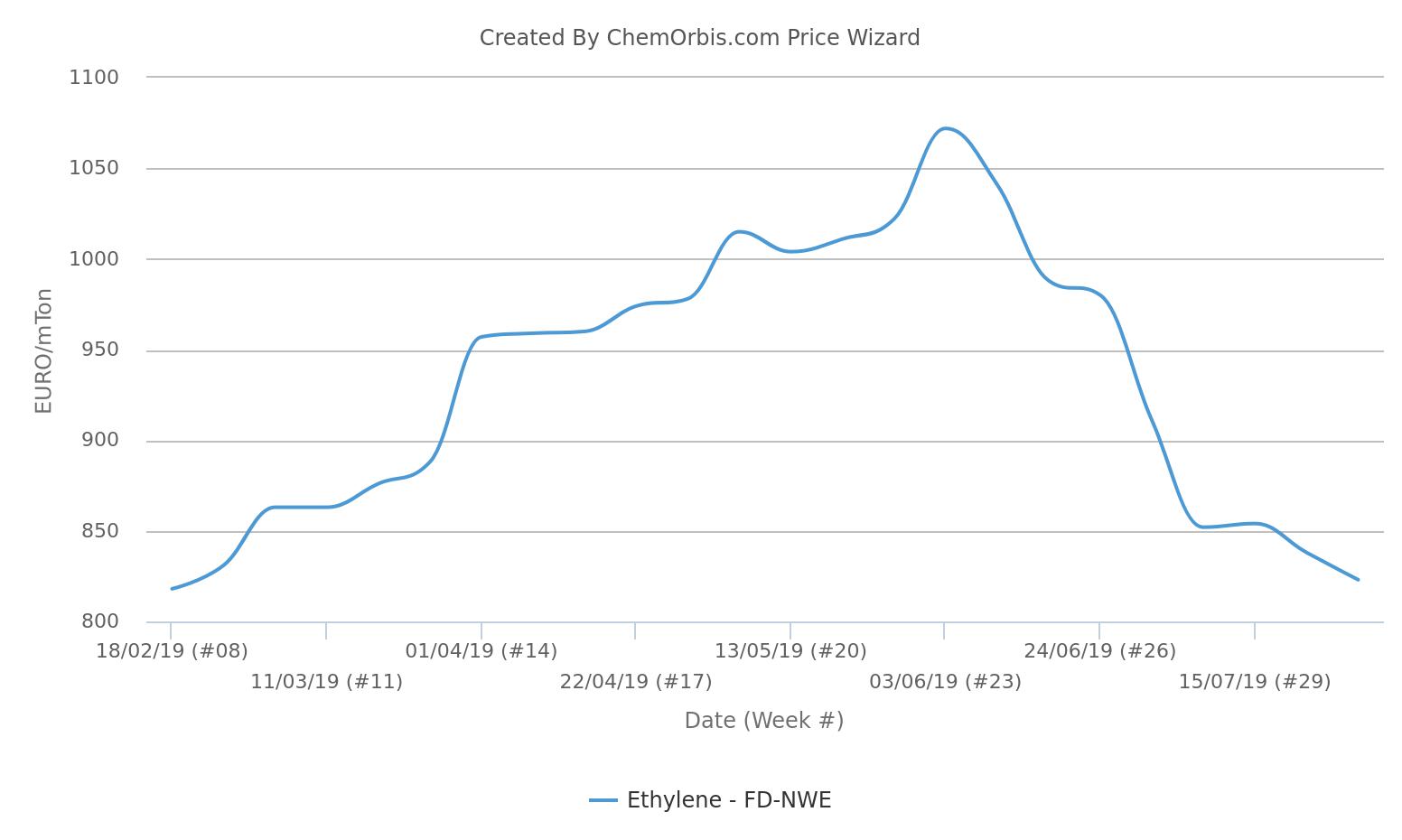 Turnarounds fail to provide support to demand
The market sentiment in Europe has remained bearish amid the approaching summer holiday season as well as the expectations of further decreases in the August contract price.
The recent drops showed that supplies continued outstripping demand despite the maintenance shutdowns across the region.
According to market sources, LyondellBasell started a turnaround at its cracker with 305,000 tons/year capacity in Wesseling, Germany last week. Ineos also began six-week maintenance at its 730,000 tons/year cracker in Grangemouth, the UK.
Asian market unchanged on subdued trading
Asian spot ethylene prices were stable last week as the market activity largely came to a standstill after three consecutive weeks of increases. Most market participants moved to the sidelines amid weak downstream margins and no clear picture on price direction
European market's premium over Asia shrinks
Along with the recent declines, the European spot ethylene market has lost premium of around $175/ton over the Asian market over the past two weeks and the gap between the two markets narrowed to a 3-month low as of last week, according to ChemOrbis Price Wizard.
The premium of European spot market over the Asian prices had been gradually increasing since late May, reaching the highest levels in more than 7 years in mid-June, according to the weekly averages.
More free plastics news
Plastic resin (PP, LDPE, LLDPE ,HDPE, PVC, GPS; HIPS, PET, ABS) prices, polymer market trends, and more...