European PVC market regains premium over Turkey
Italy's local PVC k67 market regained its premium over Turkey as of mid-March and this premium has gradually grown since then after local prices in Italy traded below the duty-free import offers for European origins in Turkey for 4 months.
Now that European sellers attempted for modest increases disregarding the flat ethylene contracts for April and duty-free European offers in Turkey eased down this week, the two markets has a delta of around $50/ton on a dollar equivalence recently, according to ChemOrbis Price Wizard.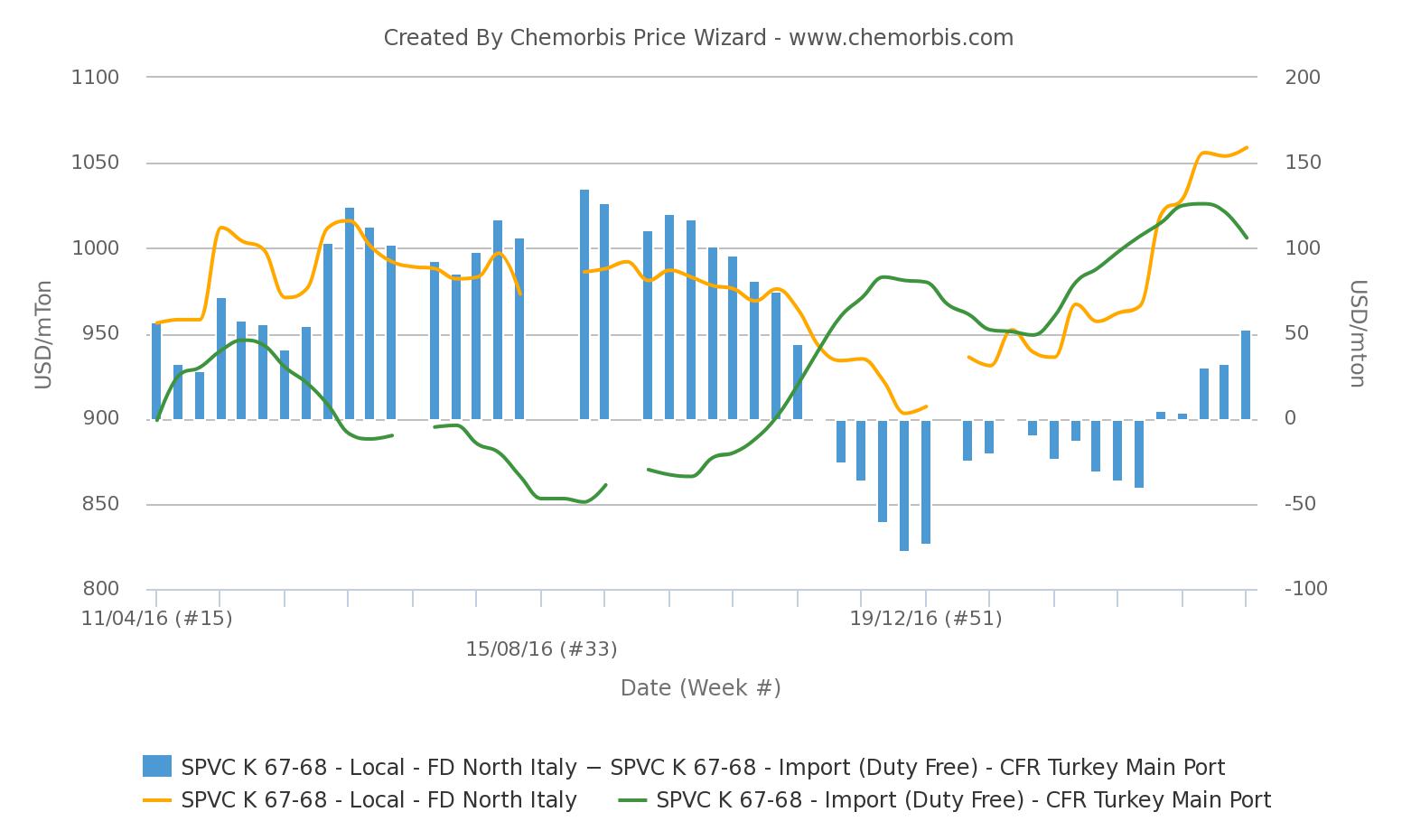 Source: ChemOrbis Price Index
As April started, the local PVC market in Northwest Europe also gained slight premium of $20/ton over Turkey after trading below that market for around five months, as can be seen on the graph below prepared by ChemOrbis Price Wizard.
Source: ChemOrbis Price Wizard
European PVC producers are seeking €20-40/ton hikes on their April deals in Italy. "Supply is not comfortable for another month and we need to improve our margins," said a source from a West European PVC maker.
However, most buyers are planning to pay smaller increases based on flat April ethylene settlements. "We already paid €20-30/ton increases from March. Demand is not bright and end users would not accept such increases. Moreover, April is considered a short month in terms of business given the Easter Holidays and some manufacturers will take their factories down for a week. Thus, we believe the initial hikes will later be trimmed," stated a converter in the country.
In Turkey, European PVC offers are reported at $1000/ton CIF Turkey, cash no duty, down $20-30/ton from last week. A large scaled manufacturer confirmed purchasing some k67 directly from a regional producer at $990/ton with the same terms, saying: "We received frequent calls from sellers and they are generally open to give discounts in an attempt to conclude deals. Supply from Europe is still limited but demand in Turkey is very silent ahead of the referendum on April 16."
More free plastics news
Plastic resin (PP, LDPE, LLDPE ,HDPE, PVC, GPS; HIPS, PET, ABS) prices, polymer market trends, and more...