European PVC stabilizes at 2-month low in Turkey
In Turkey, import European PVC k67 prices gradually eased down starting from the second half of December after moving above the local European k67 market on dollar basis by mid-November on then-tight allocations from the region.
In tandem with the slowing trade amidst the depreciation of the Turkish lira against other currencies and winter season, k67 offers from the region stabilized mostly at $940-960/ton CFR Turkey, cash this week, the lowest levels in two months, according to the weekly average data provided by ChemOrbis Price Index.
The fact that European prices in Turkey saw downwards corrections and regional PVC makers achieved smaller hikes than they initially sought in Italy's local market have brought the two markets back on par again on dollar basis, as can be seen on the ChemOrbis chart below: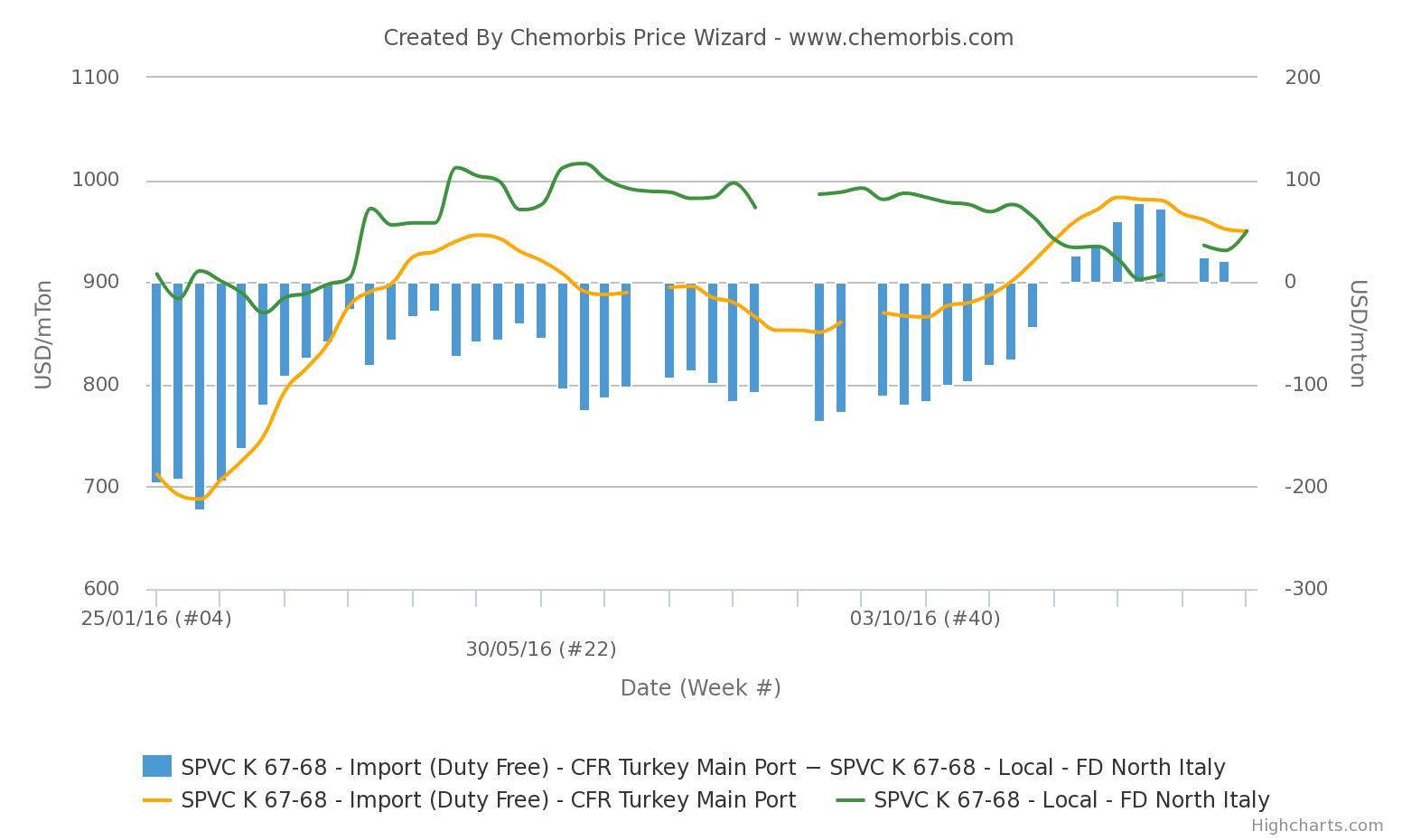 Source: ChemOrbis Price Index
A trader offering European PVC cargos in Turkey reported that demand was quite sluggish this week. "We don't expect an improvement until the end of January considering the approaching New Year holiday in China. However, prices may draw a stable to slightly firmer trend in February with $10-20/ton increases as supply is not that ample and ethylene costs are strong," he commented.
A pipe manufacturer noted, "We are not interested in purchasing beyond our needs. For the near term, we expect no major changes in PVC prices while trading activities may start to revive in February."
In the meantime, early February expectations call for firmer offers in Italy's PVC market on the back of higher upstream costs in Europe. Spot naphtha prices moved above $500/ton CIF NWE recently, while ethylene costs in the region gained around €25/ton on FD NWE on the week.