European PVC up for 16th month in Sept, prices touch new highs
In Europe, fresh PVC offers that have been announced for September so far indicate small increases despite the slightly lower ethylene settlement. The bullish trend entered its 16th month, with supply-demand dynamics remaining as key factors setting the tone of the market. PVC prices hit fresh record highs, needless to say.
Some of the regional producers applied hikes of up to €30-50/ton on their offers, while others issued smaller hikes of €10-20/ton or have yet to decide on their pricing policies at the time of writing. They point to the inflated levels PVC prices hit, which may scale down margin expansion plans.
K67-68 priced 135% higher from June 2020
Since the uptrend kicked off in early June 2020, spot K67 prices have seen cumulative gains of around €900-950/ton or 135% in Italy and Northwest Europe. As can be seen on the graph below, spot K67-68 prices in Italy hit fresh record highs amid shortage.
TARs keep supply outlook firm; Kem One declares FM from Berre
In production news, Kem One has recently declared a force majeure on K70 supplies from Berre plant following an equipment failure. The producer's force majeure at Saint Fons site has remained in place, meanwhile.
Vynova's PVC plants in France and the Netherlands remained under force majeure as well, while force majeures at Vinnolit's plants in Germany were yet to be lifted at the time of writing.
When it comes to planned maintenance shutdowns, Kem One started to conduct a turnaround during the week ending on August 20. The shutdown is slated to last for 3 weeks. Kem One will have another PVC maintenance work scheduled for October in France.
Borsodchem and Spolana's PVC plants were expected to go into planned turnarounds in late August.
Hurricane Ida to keep Europe from US PVC
Hurricane Ida
landed as a Category 4 storm on August 29, leading to several PVC and upstream shutdowns as well as force majeures in Louisiana, the US. According to RTI Drivers, nearly 40% of PVC capacity was affected by the storm. This coupled with the bullish run in global markets underpinned the strong sentiment in Europe.
According to the newly launched ChemOrbis feature
Production New Pro
, slightly more than 1 million tons of US PVC and upstream capacity have gone offline since September kicked off.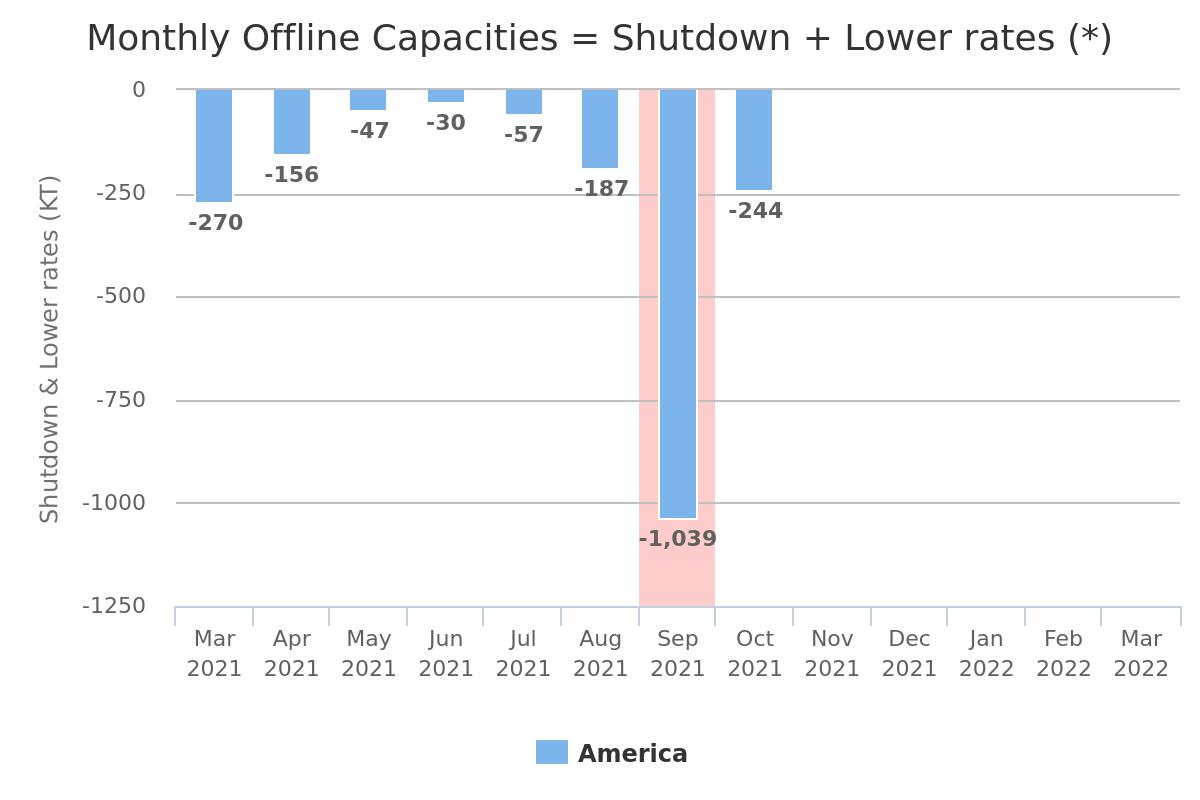 Whilst some market players were expecting resumption of imports towards the year-end, US supply disruptions amid hurricane season as well as paralyzed logistics across the board are likely to keep curbing imports to the bloc. Moreover, industry participants find it risky to engage in import material due to the frequent delivery delays.
Meanwhile, participants expect to see the spillover impact from the US disruptions more visibly in October.
Construction drives demand higher
PVC demand has been supported by increased activities in the building and construction sectors. Participants do not expect a slowdown in demand so long as weather conditions remain favorable. According to players' reports, converters have their order books full for September and October, not to mention their need to clear backlog orders amid a dearth of PVC supplies.
Large-sized compounders reportedly have orders until December amid high requests and backlog orders. Meanwhile, pipe makers are having difficulty in passing costs onto their end products due to their semi-annual contractual commitments.
Current market indicators suggest that it will take time for regional supply levels to fully recover amid robust buying appetite and disruptions across the entire supply chain. Should demand subside in the following months, this would allow sellers to rebuild their stocks.
More free plastics news
Plastic resin (PP, LDPE, LLDPE ,HDPE, PVC, GPS; HIPS, PET, ABS) prices, polymer market trends, and more...