Global PET markets weighed by falling feedstock costs
PET bottle prices mostly followed a weak trend over the week across the board. The main factors behind the falls were deemed to be receding feedstock prices while ebbing demand also added a strain on the markets.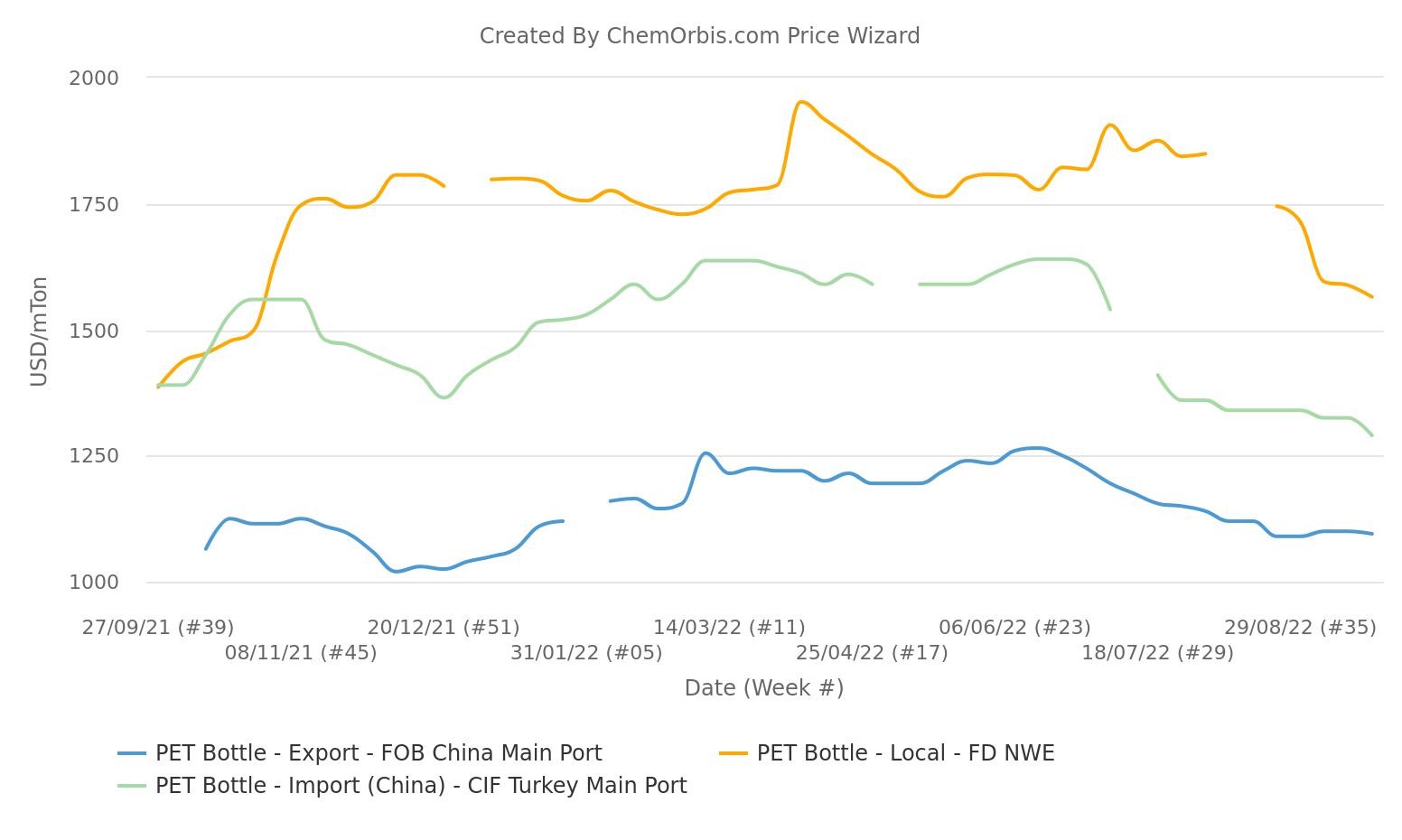 Falling costs drag Asian markets down
In Asia, last week's steady path proved to be short-lived as the falling upstream chain forced downstream PET sellers to cut their prices. According to ChemOrbis Price Wizard, spot MEG and PTA prices eroded by $30-40/ton on CFR China basis during the week. Following suit, export offers from China and South Korea edged down by $10/ton from last week.
Most players in China and Southeast Asia expect PET prices to remain under pressure from weak demand in the near term, which means a market upside is unlikely ahead. If oil and feedstock prices retain their downtrend, they do not rule out the possibility of additional declines.
Competitive imports add a strain on Europe
In Europe, elevated utility costs have been hindering manufacturing activity, which limited purchasing amounts this month. September deals were concluded with €120-150/ton declines as sellers in the spot market succumbed to thin activity for another month.
Adding to the scene have been competitive import PET bottle offers. A converter anticipated decreases of around €40-50/ton for MEG and of around €80-90/ton for the PX settlement. He said, "We think that the downtrend will continue until the end of the year as consumption has been dimmed by inflation and high gas and electricity costs."
This week, import Asian PET bottle cargos were offered between €1280-1340/ton CIF, with confirmed deals at the low end of the overall range for November deliveries. These levels were either in line with the low end of the region's spot markets or even below them. Multiple players agreed on the fact that the falling freight rates played a key role in the recent drops for these origins.
Looking ahead, players will keep an eye on slated turnarounds at some PET producers to see whether or not these shutdowns will help price cuts lose steam in October.
PET breaks below $1300 CIF Turkey for first time since July 2021
Turkey has also followed suit, with import PET bottle prices from China breaking below the $1300/ton CIF threshold for the first time in more than a year this week.
Players commented, "Activity has wound down further this week due to the waning high bottle season. Demand for prompt materials has been a tad better than for imports."
Food packaging applications fared better than the beverage sector due to the sustained demand for perishable goods. A food packager said, "There is no seasonality for us as we manufacture a wide range of products. In general, food packaging was less affected by macroeconomic headwinds."
PET bottle prices are unlikely to recover in the near term, according to players, based on comfortable domestic stocks. Meanwhile, Turkish Koksan's new PET line is expected to come online by the end of the year. The impact of the addition will be monitored in Q1 2023 considering that the company's overall PET production capacity will reach 500,000 tons/year following the start-up.
More free plastics news
Plastic resin (PP, LDPE, LLDPE ,HDPE, PVC, GPS; HIPS, PET, ABS) prices, polymer market trends, and more...