How will global polyolefin markets welcome 2017?
Global polyolefin players have started 2017 following a year of struggle amidst volatile crude oil prices, political tensions across the globe and depreciating currencies especially following the presidential elections in the US.
After a year of fluctuations, crude oil markets made a firm start to 2017, closing the previous year at their highest levels since July 2015. Firmer energy costs paved the way for a strong outlook for global ethylene and propylene markets which opened the year at high levels, as well.
Defying these bullish upstream developments, China's import polyolefin markets welcomed the new year on a stable to slightly soft note as a result of muted trading activity ahead of the upcoming Chinese New Year holiday, with buyers refraining from import purchases amid the depreciating yuan.
Despite this scene, both PP and PE opened the year with higher levels when compared to the beginning of 2016. Data from ChemOrbis Price Index reveals that China's import homo-PP market ended 2016 with a gain of $218/ton while LDPE film was $216/ton higher compared to January 2016.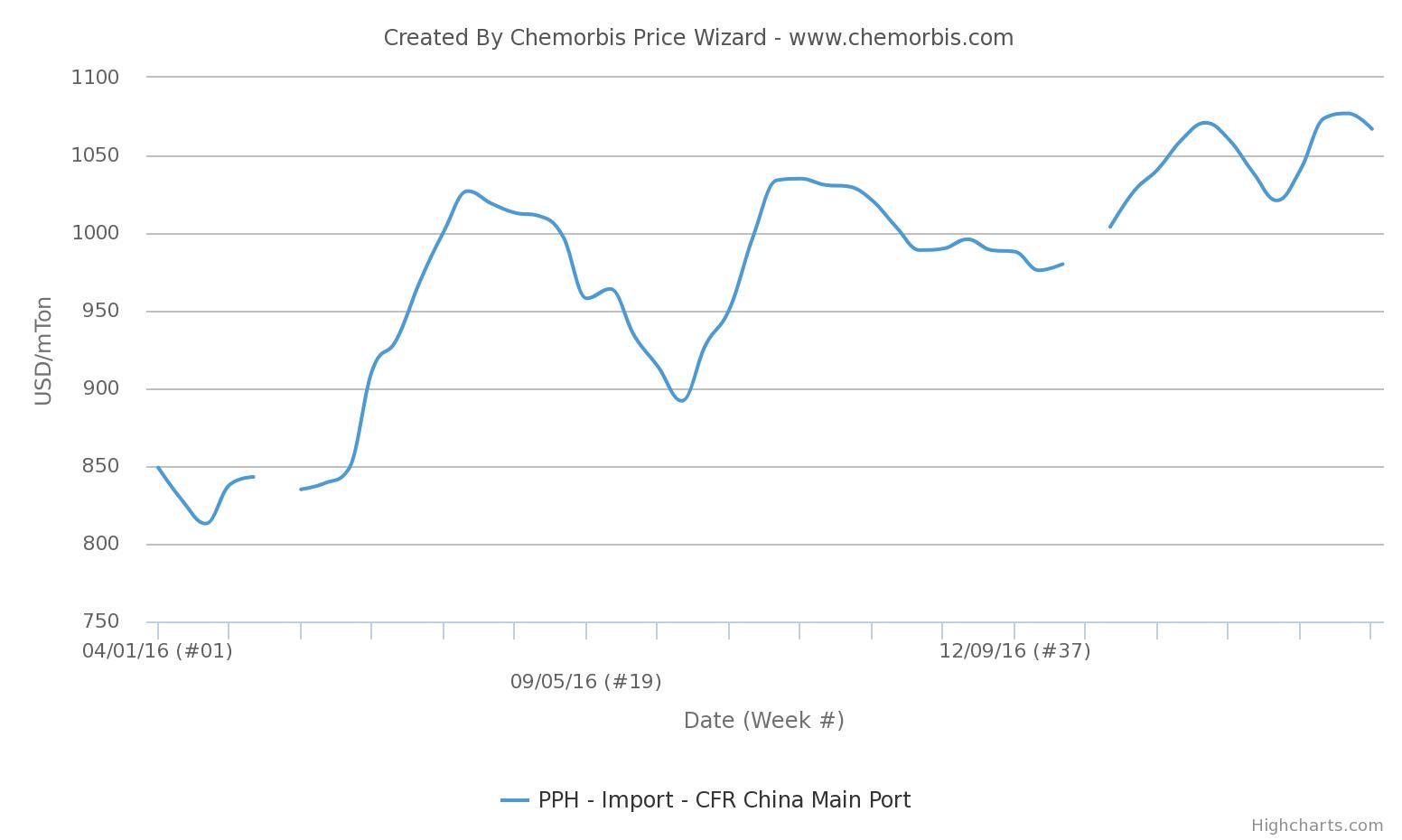 Source: ChemOrbis Price Wizard
Source: ChemOrbis Price Wizard
In Southeast Asia, the year also began on a steady to soft path although hike intentions were voiced on the sellers' side. Several Middle Eastern suppliers approached the market with increases for January, yet their hike attempts met with resistance from buyers who believe that the current levels need downward corrections owing to sluggish regional demand. A global trader opined, "We expect to see a mostly steady trend for January as buyers aren't interested in higher levels from regular Middle Eastern suppliers while sellers are reluctant to give big discounts, citing firm upstream costs."
Turkish polyolefin players also welcomed the year with hike requests from Middle Eastern sellers. Despite unpromising demand, expectations were already calling for hike announcements given the fact that Turkey's polyolefin markets still lack a premium over China. Meanwhile, according to ChemOrbis Price Index data, the import homo-PP raffia market closed the year with a gain of around $143/ton when compared to initial 2016 levels. For LDPE film, the Turkish market recorded an increase of $125/ton.
When it comes to Europe, the polyolefin outlook for the first month of 2017 is considered to be firm. Following the Christmas holiday, European players settled January ethylene and propylene contracts with increases of €45/ton while regional polyolefin sellers are voicing up to three-digit hike intentions for their January announcements.
More free plastics news
Plastic resin (PP, LDPE, LLDPE ,HDPE, PVC, GPS; HIPS, PET, ABS) prices, polymer market trends, and more...