Import PS prices highest since June 2015 in Turkey
Turkey's import PS markets recorded massive hikes over the week as Asian suppliers added to their three digit increases blaming higher production costs. According to the data from ChemOrbis Price Index, import PS prices hit the highest levels seen since early June, 2015, on a weekly average, following the latest rally.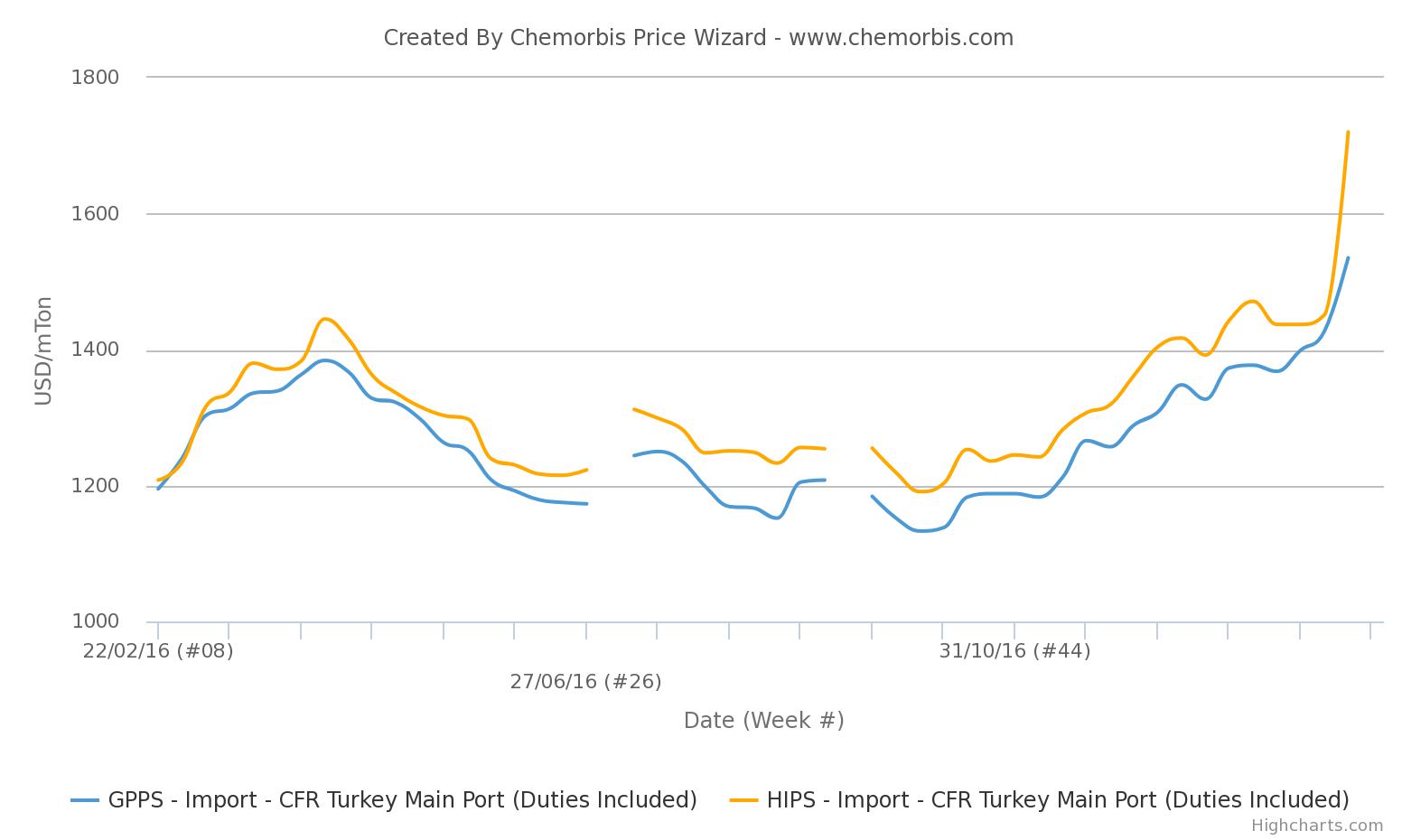 Source: ChemOrbis Price Wizard
A South Korean producer applied massive hikes of $290-310/ton, with its prices standing at $1670/ton for GPPS and $1730/ton for HIPS, CIF Turkey, cash. "We prefer not to replenish any stocks at current prices since we believe it would be risky considering the long shipment time for those cargos," a trader reported.
An Indian supplier also applied three digit hikes bringing its fresh levels to $1640/ton for GPPS and $1720/ton for HIPS, CIF, subject to 3% duty, cash. "The producer implemented $190/ton increases. Although demand is not spectacular towards rallying prices, we believe the market may move up some more before stabilizing in March due to supportive costs," an agent of the producer noted.
Iranian GPPS prices surged as well to $1400-1430/ton FCA, subject to 6.5% duty, cash, up $110-120/ton amidst deals at the low end. "We are hearing much higher levels as sellers are reluctant to sell material given skyrocketing replenishment costs," players reported. Today, a trader has reported hearing Iranian GPPS prices at up to $1460/ton with the same terms, saying, "The nearing Newroz Holiday in March may disrupt supply from Iran."
Players generally attributed the relentless increases for PS to higher feedstock costs including for styrene and butadiene in Asia as well as a strong return from China's PS market following New Year holidays. Meanwhile, sellers in Turkey admitted that prices on the upper ends saw resistance from the market as several players found it risky to replace stocks at the prevailing prices for long distance materials. "We think most of these increases are speculative and the current price levels are unworkable," a manufacturer agreed.
A PS seller stated, "We are mulling over applying additional increases in the latter part of February as we preferred to split our hikes in order not to push buyers out of the market. There are other alternative products instead of PS and buyers who can hardly reflect their rising PS costs onto their end product prices may turn to those other polymers which would affect PS demand if prices continue to record such large increases."
More free plastics news
Plastic resin (PP, LDPE, LLDPE ,HDPE, PVC, GPS; HIPS, PET, ABS) prices, polymer market trends, and more...