PET prices rally to multi-year highs in China, SEA
Export PET prices out of China have rallied to touch more than three-and-a-half year high this week, according to the weekly average data from ChemOrbis Price Index, on the back of surging upstream chain. Low supply levels on part of domestic producers along with healthy demand amid seasonal factors also contributed to the bullish run.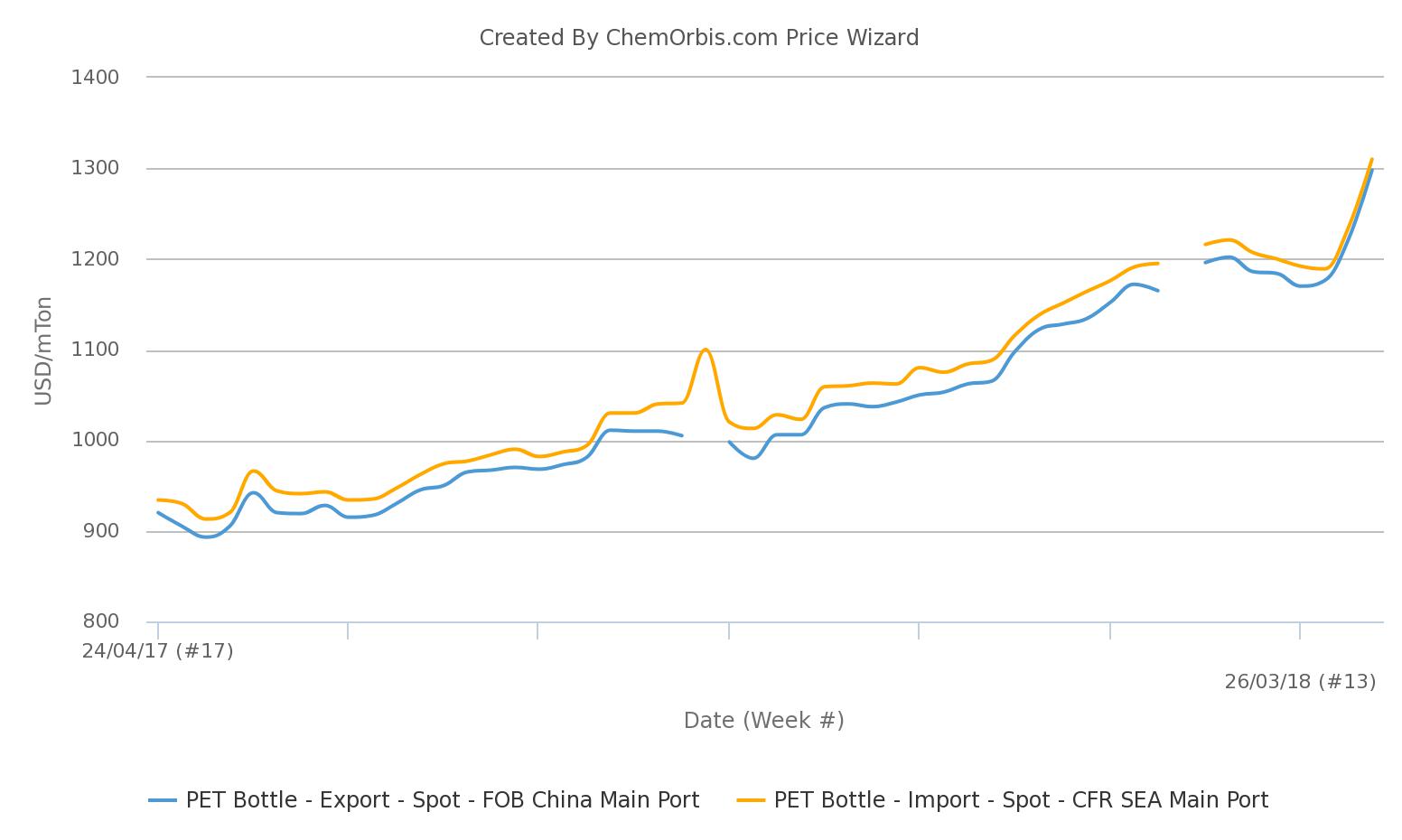 China's export market recorded increases of up to $95/ton in overall ranges just in a week, as was previously mentioned in detail in ChemOrbis Plastics News
Export PET prices from China spike on bullish fundamentals
.
"PET prices retained their increasing trend for another week bolstered by higher crude oil prices, which also pushed spot feedstock prices further up," commented a trader in Shanghai. Players also reported better demand from export markets in line with the approaching Ramadan as another factor behind the upward momentum.
Import PET markets in Southeast Asia also followed suit, as prices in several markets including the Philippines, Indonesia, Thailand and Vietnam reached their highest levels since August-September, 2014.
A Thai PET producer applied $20-40/ton hikes from last week and said, "Most of our customers placed their orders ahead of Ramadan out of their expectations to see additional price increases." A trader in Vietnam reported, "We were offered $70/ton higher Chinese PET prices this week while shipments are mostly due for end-May or early June, the earliest."
In upstream markets, spot PX and PTA prices increased by around $20-25/ton since the beginning of April, while MEG prices surged by almost $90/ton in the same period.
More free plastics news
Plastic resin (PP, LDPE, LLDPE ,HDPE, PVC, GPS; HIPS, PET, ABS) prices, polymer market trends, and more...