PP, PE already back to 2020 lows in China; prices poised for further drops
The sentiment in China's polyolefin markets has been weak since February but the price slump has gained momentum particularly in the past couple of weeks, as import spot prices have moved to their lowest levels since 2020 based on ChemOrbis data. While LDPE's flagging performance has changed traditional norms in PE markets, PP markets have already been readying for new lows.
Oversupply woes amid new capacities and slower-than-expected demand recovery post zero-Covid policy have been the two major factors to blame for this extended downturn.
Raffia prices may soon test $800 CIF threshold
After breaking below
the $900/ton CIF
threshold in the middle of May, spot homo-PP raffia and injection prices have continued to lose ground, gradually approaching to the $800/ton CIF level.
This week, the overall range for import homo-PP raffia injection prices has stood at $830-870/ton CIF, with Middle East origin prices at $830-860/ton and India origin prices at $840-850/ton on similar terms.
ChemOrbis Price Index shows that the weekly average of import homo-PP raffia and injection prices is standing at $850/ton CIF, hovering at a
three-year low
.
LDPE moves well below HDPE in China albeit with a delay
Mirroring
global patterns
, LDPE film prices finally moved slightly below HDPE film prices over the past week and the premium of the latter has grown this week. This came as no surprise considering tha sharp fall in LDPE prices as a result of sluggish demand and growing length.
ChemOrbis data show that LDPE film started to trade below HDPE film prices for the first time in four years, with LDPE's discount to HDPE film reaching $25/ton recently. The gap was only $5/ton over the past week.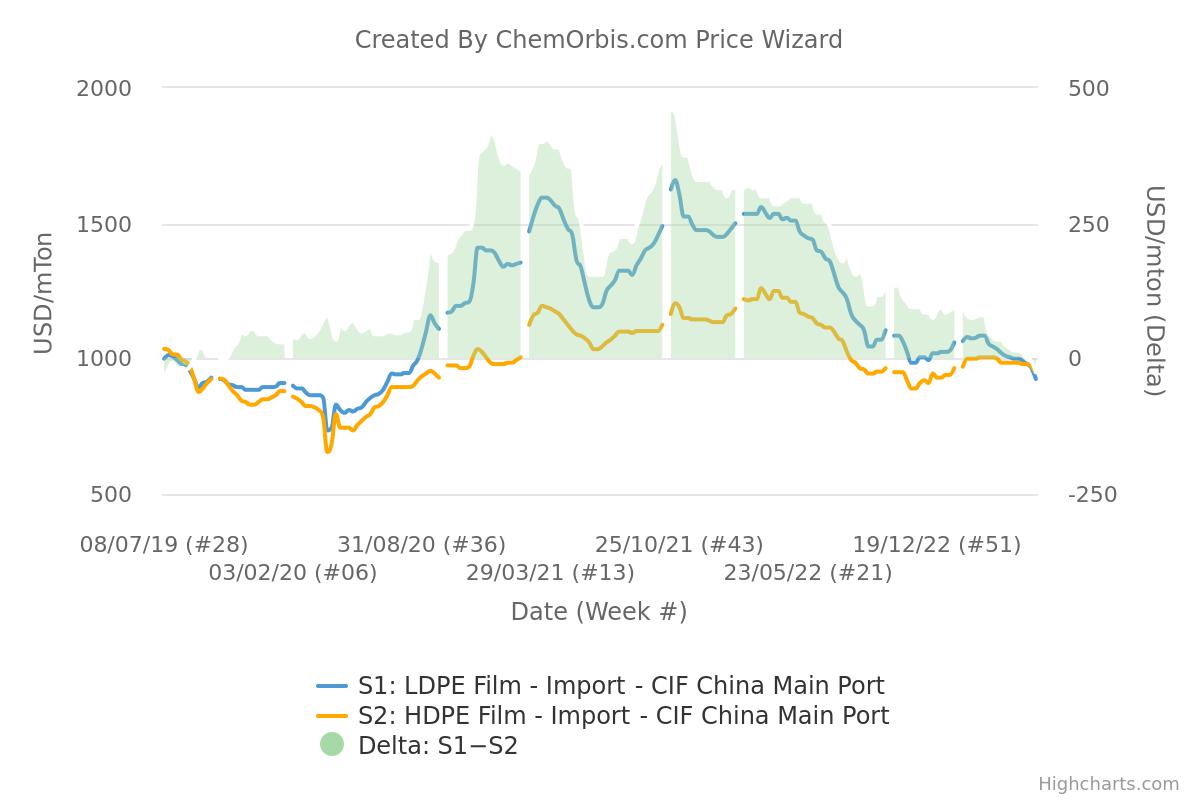 This week, the overall range for import LDPE and HDPE film prices have stood at $900-950/ton and $930-970/ton CIF China, respectively. The ranges have indicated weekly losses of up to $50/ton.
LDPE's fall below LLDPE seems like a matter of time
ChemOrbis data also show that LDPE film's current premium over LLDPE film is now standing at $5/ton, shrinking to the lowest level since March 2019. Meanwhile, import LLDPE film prices are also standing at a three-year low in China, disregarding a weekly fall in November 2022.
This week, the overall range for import LLDPE film prices has stood at $900-940/ton, down by $20-30/ton from last week.
June signals no upturn for now
China's polyolefin markets have been under heavy pressure amid new capacities. ChemOrbis Production News Pro suggests that China is set to add 1.1 million tons of new PP and 950,000 tons of new PE capacity only next month, not to mention already commisioned 2.5 million tons of PE and 1.8 million tons of PP capactiy so far in 2023. The demand front is also unpromising, with uncertainty in China's economic recovery.
A trader commented, "In June, the supply pressure in the PP and PE markets will increase amid plant restarts and new capacities. Moreover, June is still a low season for end demand, making it difficult for the supply-demand fundamentals to boost the market. Looking ahead, there are expectations of a decline in oil prices and global economic headwinds persist."