Re-export PP from China shows up in Vietnam
Players report that re-export homo-PP cargoes from China have emerged in the Vietnamese market recently. Demand in China remains unsatisfactory following the end of the Chinese New Year holidays while the recent sharp decreases in futures prices are weighing down the PP sentiment in the country. The Vietnamese PP market, on the other hand, has been tracking a firm trend since the holiday ended.
Data from ChemOrbis Price Index reveals that the Vietnamese homo-PP raffia market is currently carrying a premium of $72/ton over China. When compared to the pre-holiday week, the gap between the two markets increased by around $70/ton.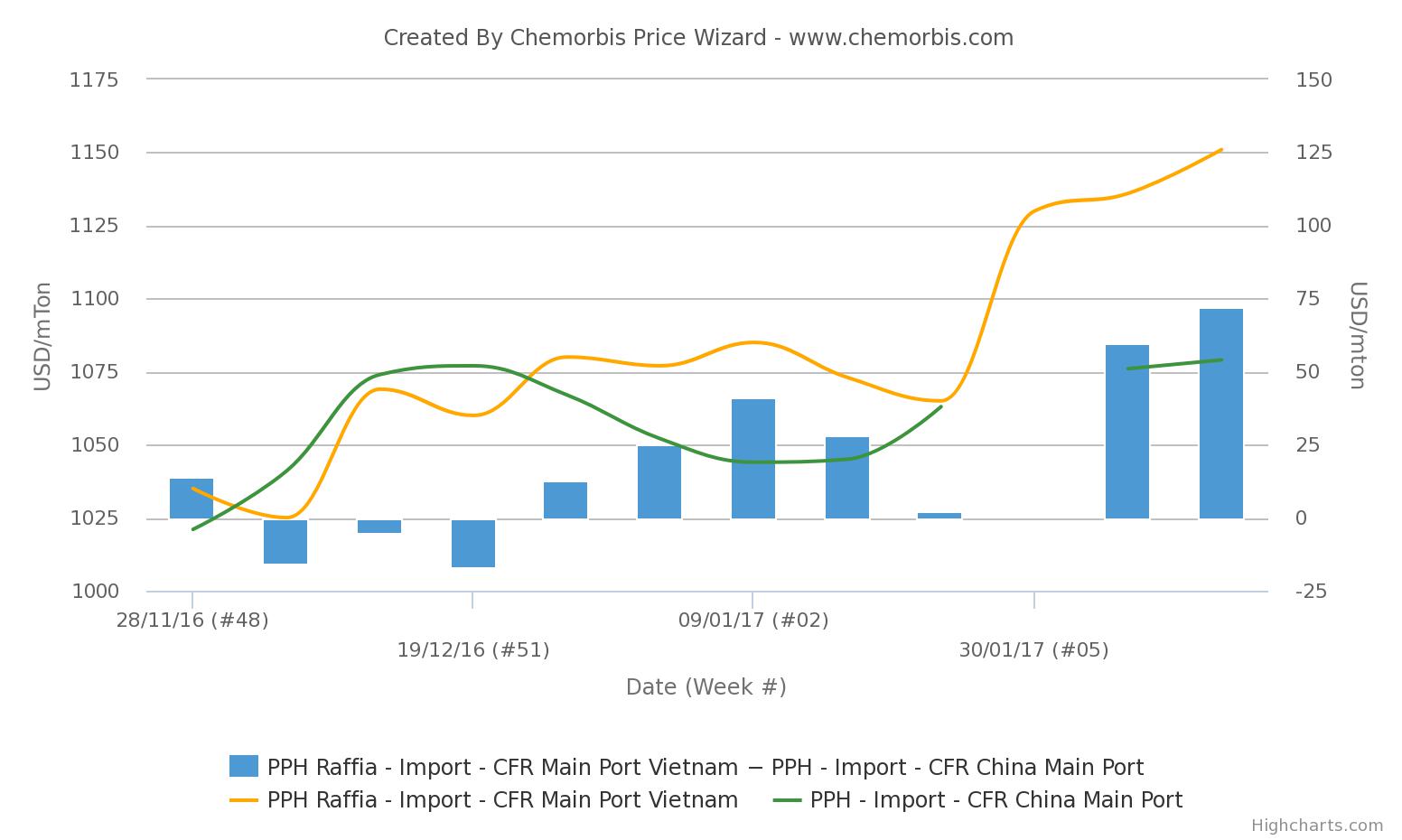 A trader operating in China reported that they are re-exporting some US homo-PP injection to Vietnam nowadays due to the muted demand in their own market. The seller stated that their US PP offers currently stand at $1135/ton on a CIF Vietnam, cash basis.
A second trader based in China also reported re-exporting Saudi Arabian PP raffia to Vietnam at $1150/ton CIF, cash. "Local PP prices in China witnessed decreases in the face of significantly lower futures prices. The import market remains on a firm note, but demand is yet to improve amidst high stock levels in the country. We are re-exporting some material to Vietnam where PP prices are firming nowadays."
Meanwhile, in Vietnam, an end product manufacturer reported that he purchased some re-exported Indian PP raffia from China at $1120/ton CIF, cash. The buyer commented, "Import PP offers in Vietnam have increased significantly since the end of the Chinese holiday. Our done deal level for re-exported Indian material is quite competitive when compared to other offers in the market since we heard that South Korean PP raffia offers have reached almost $1200/ton CIF."
In Vietnam, import homo-PP raffia prices are currently quoted at $1120-1160/ton on a CIF, cash equivalent basis.