SEA PE market remains under pressure from flood of competitive US offers
Southeast Asia's PE markets have been receiving an increasing number of US offers since China started to impose %25 tariffs on LLDPE and HDPE imports from the US in August 2018. US producers have raised their shipments to the region, particularly to Vietnam, to compensate for loss of market share in China.
Rising supplies from the US, along with growing fears of a global recession as well as tumbling currencies, have been weighing on the buying sentiment across the region and prompting sellers to reduce their offer levels.
US PE continues to offer competitive edge
Thanks to their cost advantage stemming from cheap shale-gas, US producers are able to maintain a competitive presence in Southeast Asia, with their prices constituting the low ends of the overall PE ranges.
According to ChemOrbis Price Index, the weekly average of US HDPE prices on CIF SEA basis has been mostly traded around $40-50/ton below Middle Eastern prices for the past one year. A similar picture can be seen in the region's LLDPE market.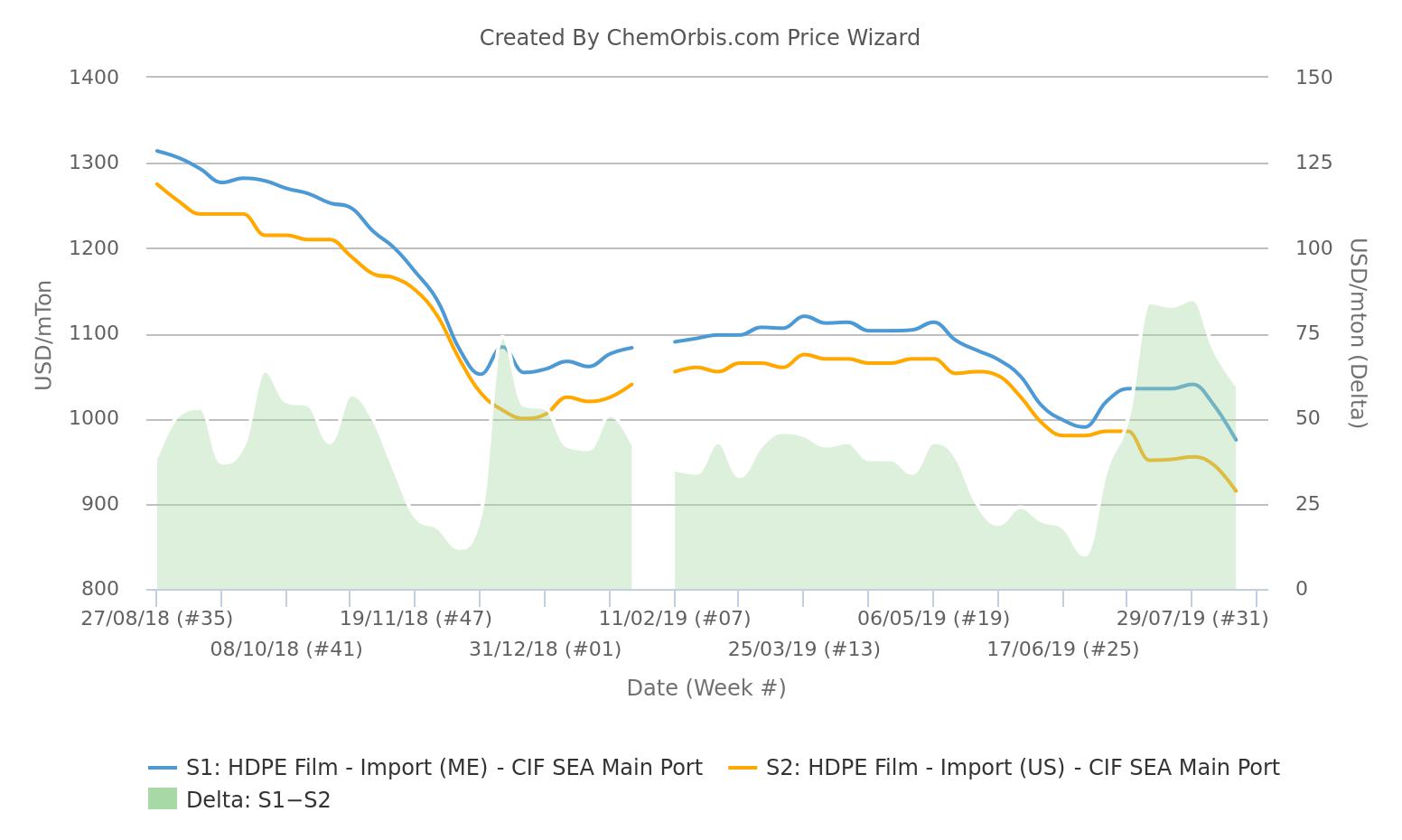 A trader in Vietnam commented, "PE prices are likely to remain soft as US supplies of HDPE and LLDPE are expected to be plentiful and priced to sell as they look to divert cargoes from China amid the trade tension. LDPE, which had escaped Chinese import duties earlier, may also come under scrutiny if the trade war resumes after the Christmas season."
New capacities boost PE exports from US
Given the new capacities coming online in the US, PE exports from the country are highly likely to continue finding their way to Southeast Asia to an increasing degree, suggesting an additional pressure on the regional markets.
"Attractive offers from the US continue to show up in Southeast Asia amid the major capacity expansions and new capacities. Despite its long shipment duration, several buyers prefer US cargoes thanks to their competitive prices," a regional player opined.
More free plastics news
Plastic resin (PP, LDPE, LLDPE ,HDPE, PVC, GPS; HIPS, PET, ABS) prices, polymer market trends, and more...