Spot PE markets yield to fading demand, better availability in Europe
In Europe, the price trend for most PE products has turned stable to softer towards mid-month as players reported improving availability amid subdued demand. Initial hike requests for some European origins proved unworkable.
Spot PE deals have been concluded with mostly rollovers for September, while some suppliers issued decreases of up to €50/ton to entice buying appetite.
Gap between European and non-European PE origins still wide
It is crucial to point out that locally-held prices for non-European origins were revised up in early September, taking surging freight rates and logistical backlogs into consideration. Since non-European origins form the very low end of the overall spot ranges, earlier competitive prices have mostly disappeared from the market.
Although the gap between European and non-European origins narrowed lately, there is still a noticeable price gap.
According to players' reports, prompt availability for non-European origins seems comfortable for the time being amid thin trading. This along with fading demand will weigh on spot prices going forward. However, sellers' stocks are bound to decline as traders avoid buying import material amid logistics snarls and inflated shipping costs.
A trader said, "Import prices are no longer competitive amid freight-driven hikes. Hence, we either sell from our stocks or do back-to-back business."
Regional supplies improve
According to the newly launched ChemOrbis feature
Production News Pro
, nearly 350,000 tons of European PE and upstream capacity have been offline so far in September. However, this figure represents a visible recovery when compared to April this year. Meanwhile, there appears to be more availability in October if no disruptions occur at regional plants.
Players exclude further hikes
The PE markets are likely to find balance with scarcity of imports on one side and inflated prices on the other side.
Moreover, prices for European origins remained elevated particularly for LDPE grades. LDPE prices saw some downward corrections, with the weekly average breaking slightly below the €1800/ton FD level in Italy and €1900/ton in Northwest Europe. Yet, they were still standing at an all-time high, ChemOrbis data revealed.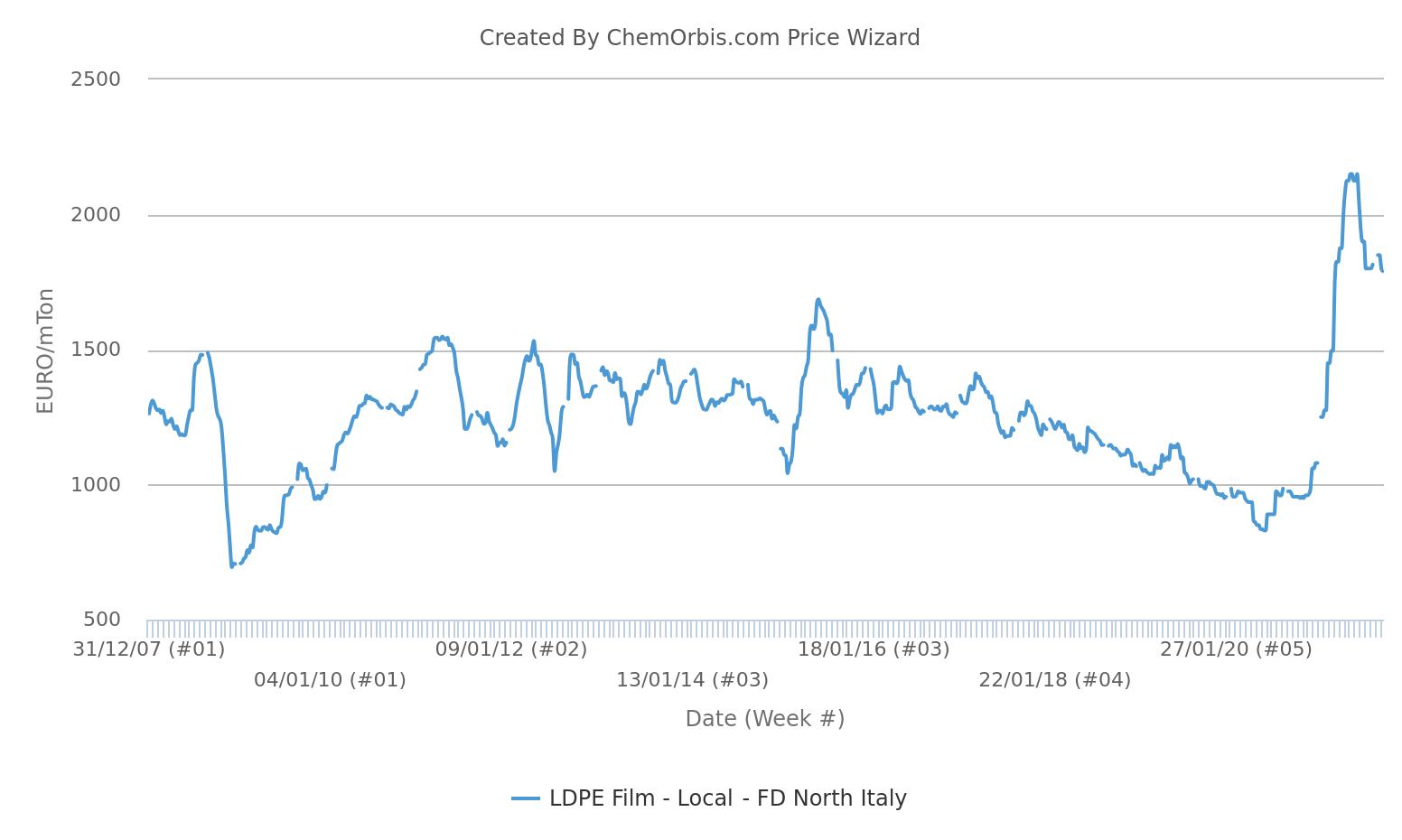 Inflated prices have prompted a more cautious approach in the market, keeping purchases hand-to-mouth in most cases. Adding to the cautious stance among buyers has been improving regional supplies amid their projections to obtain discounts.
On the other side of the coin, there will be less imports making their way to Europe due to troublesome transportation processes and delivery delays from the Middle East and Asia. Apart from challenging logistics, robust domestic demand will also keep US PE imports from Europe.
A packager remarked, "Regional supply levels are rising, while shipping delays will curb imports to Europe despite attractive netbacks. With this in mind, we expect prices to follow a stable to softer trend in the near-term."
More free plastics news
Plastic resin (PP, LDPE, LLDPE ,HDPE, PVC, GPS; HIPS, PET, ABS) prices, polymer market trends, and more...