Spot homo-PP hits 6 month-low in Europe
The European PP market is facing renewed decreases for the third month in a row in the wake of lower propylene settlements. Despite the stable outcome of propylene contracts in May, sellers had applied reductions on their offers in an attempt to attract demand. Following this, June and July contracts were settled with respective decreases of €40-50/ton but larger decreases continued to pass in the PP market.
Along with the July decreases, spot PP prices in Europe have recently dipped to 6-month-low on average as data from ChemOrbis Prize Wizard reveals.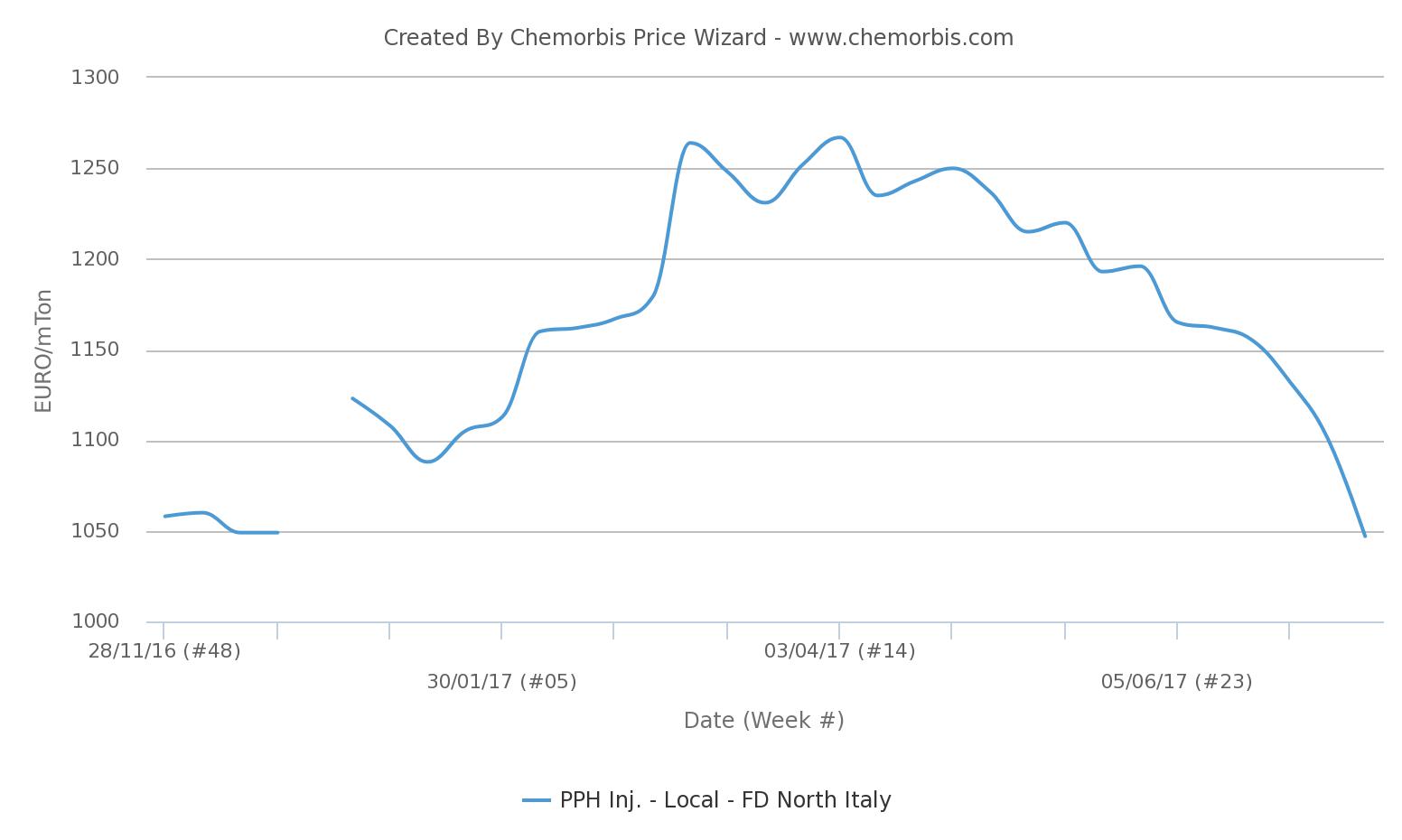 Ample supplies especially for homo PP and lower contract settlements forced sellers to trim their offers by €50-70/ton, although supply for PP copolymer was still reported to be tight. Unlike previous months, demand has improved due to the concerns over the nearing bottom.
A West European supplier's source remarked, "We applied €50/ton decreases on our July prices although we are still facing some issues on PPBC. Therefore, we primarily focus on our contracted customers' needs. Buying interest is rather high."
On the buyers' side, some converters are more willing to build stocks due to the lower levels in the market while others are limiting their purchases to keep their stocks low as they will leave for holidays during August.
In Italy, a buyer commented, "We paid decreases of around €50-60/ton this month. We also think that prices still have room to decrease during the month given sufficient supply levels. However, trading will cool off towards the end of the month due to summer vacations."
This week, spot homo PP prices are closer to the €1000/ton threshold at €1020-1140/ton in Italy and €1030-1160/ton in Northwest Europe while PPBC inj. prices are at €1080-1210/ton and €1100-1220/ton in Italy and Northwest Europe, respectively.