Stats: China's cumulative PPH imports in Jan-Apr period at lowest since 2008
According to data from ChemOrbis Stats Wizard, China's total homo-PP imports in the January-April period of 2022 indicated the lowest figures since 2008.
The country's cumulative PPH imports in the first four months of 2022 remained below 1 million tons, losing nearly 17% compared to the same period of last year.
The country's weak performance is mainly attributed to the strict Covid-19 measures taken in the major regions, which not only hindered the daily life and
trade flow
but also took a toll on the economic data. Shanghai was under lockdown that started in
late March
and lasted until
June 1
while the capital Beijing and Tianjin have gone through a rough phase with local quarantines and massive testings as well.
April data reflects weak demand conditions
April figures
made the second smallest contribution to the total import volumes with around 211,000 tons, reflecting weak buying appetite for homo-PP throughout the month. February, when China traditionally has one of its longest holiday seasons due to the Lunar Year holiday, ranked as the first with around 198,000 tons, meanwhile.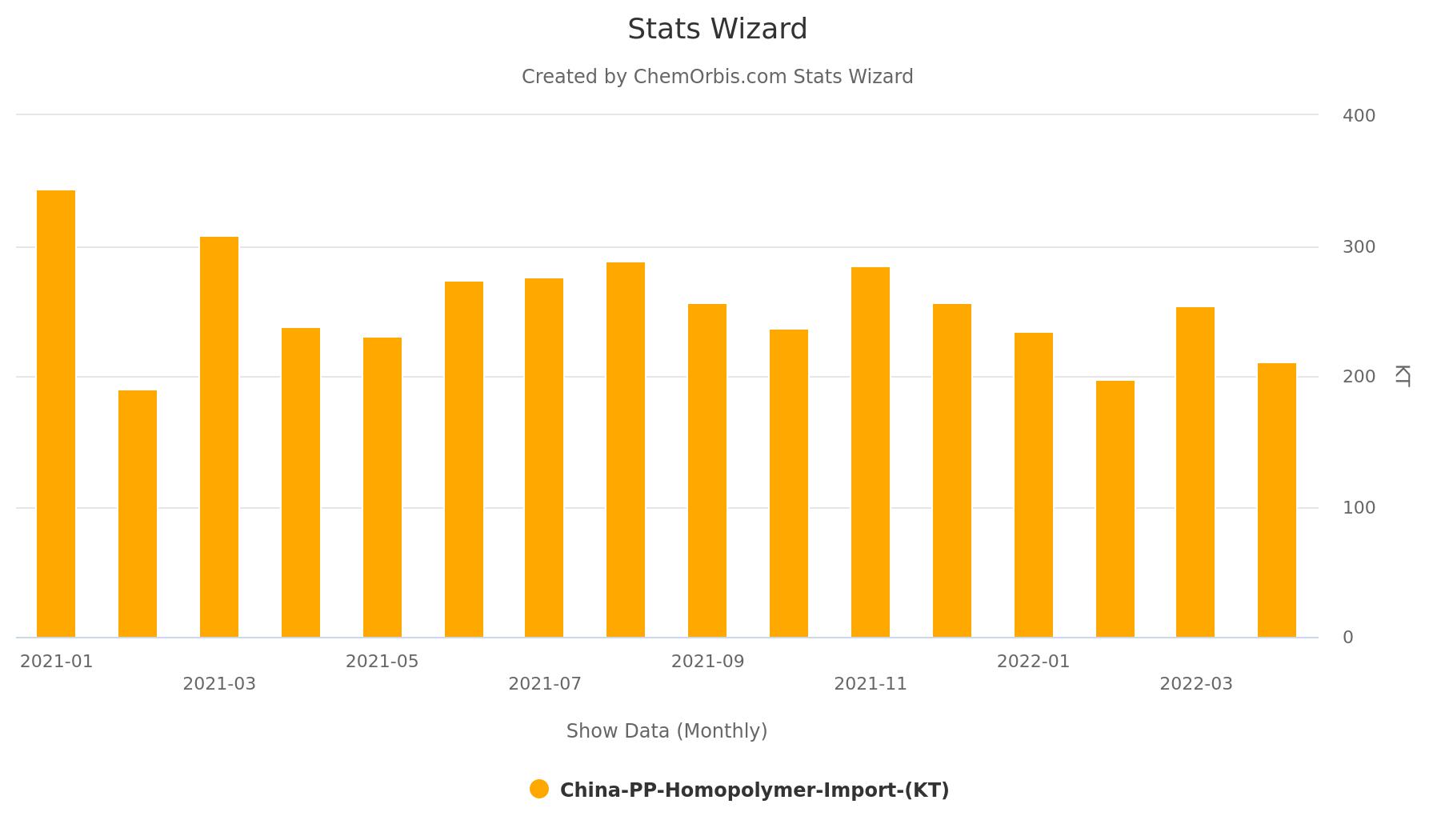 May volumes likely to be even lower
In the midst of China's uphill battle with the latest Covid-19 outbreak starting in late March, the major financial areas were under strict curbs throughout May, resulting in disruptions in logistics and manpower due to restrictions on the movement of people and materials. Accordingly, May import volumes are not expected to perform better than April.
Adding to the scenario were bearish demand conditions throughout May. While Chinese buyers were mostly reluctant to make fresh purchases amid the pandemic, most overseas suppliers preferred to focus on other export outlets than China not only because of better netbacks but also to avoid logistics issues.
According to the monthly average data obtained from ChemOrbis Price Wizard, homo-PP raffia and injection prices on CIF China basis were standing at $1147/ton while prices on a local ex-warehouse China basis (VAT excluded) were standing at $1145/ton. The competitive edge offered by local prices over imports was another factor putting extra pressure on import demand, with the depreciation of the yuan against the USD deepening the impact.
The expected rise in China's local PP supply amid capacity additions also remains a concern.
China to welcome more than 3.5 million tons of new PP capacity in 2022
According to ChemOrbis Production News Pro, PP markets in China are likely to house an expected additional capacity of 3.7 million tons that is slated to start up in 2022. Meanwhile, more than 4 million of PP capacity was already planned to come onstream throughout 2021 in China.
To track the impact of the new additions and the supply balance between new capacities and offline capacities, visit
ChemOrbis Production News Pro.
More free plastics news
Plastic resin (PP, LDPE, LLDPE ,HDPE, PVC, GPS; HIPS, PET, ABS) prices, polymer market trends, and more...