Stats: India's H1 PP imports jump, PE and PVC imports skyrocket
by Esra Ersöz - eersoz@chemorbis.com
Following an already-record-breaking year of 2022, 2023 seems set for a renewed all-time high for PE, PP and PVC imports in India. According to ChemOrbis Stats Wizard, India saw a precipitous climb in PE and PVC imports in the first half of this year while PP imports had a relatively smaller increase. Recent data also suggest that PE imports of India have even outpaced Türkiye, which was traditionally the second largest PE buyer of the world.
The yearly growth is almost 100% for H1 PE imports
Data also show that H1 2023 PE imports reached 1,809,205 tons, surging by 97% compared to the same period of 2022 and 16% from H2 2022. During the full year of 2022, India imported a total of 2.4 million tons of PE, two third of which has already been achieved in the first half of this year.
On a side note, Q1 2023 imports not only made the largest contribution to the H1 2023 volume but also indicated the all-time high level recorded for a quarter period ever since ChemOrbis started to compile data in 2007.
India's PE imports even left Turkey far behind
Among the list of the world's largest PE buyers, China unsurprisingly takes up the first place with a hefty portion. The following largest consumers are traditionally Türkiye, India, Vietnam and Mexico, although each has a much smaller share – almost one seventh of China – in global trade.
As a comparison, ChemOrbis Stats Wizard data suggest that India's PE imports traditionally remained 10-20% below Türkiye's total PE imports or stayed at par with it over the years. Although Türkiye was by far a larger buyer of PE since 2017 – because of its insufficient domestic supply, lack of new capacity additions and growing demand, this situation first changed last year as India overtook Türkiye by importing 10% more PE at 2.4 million tons.
The first half of 2023 shows this difference becoming much starker with India's PE imports moving at least 32% above Türkiye with more than 1.8 million tons.
If January-June data is annualized, India's total PE imports may even breach 3.6 million tons by the end of 2023. Even though they may lose some pace in the second half of the year along with the monsoon season and slower economic indicators, it is evident that 2023 will also beat the record set last year.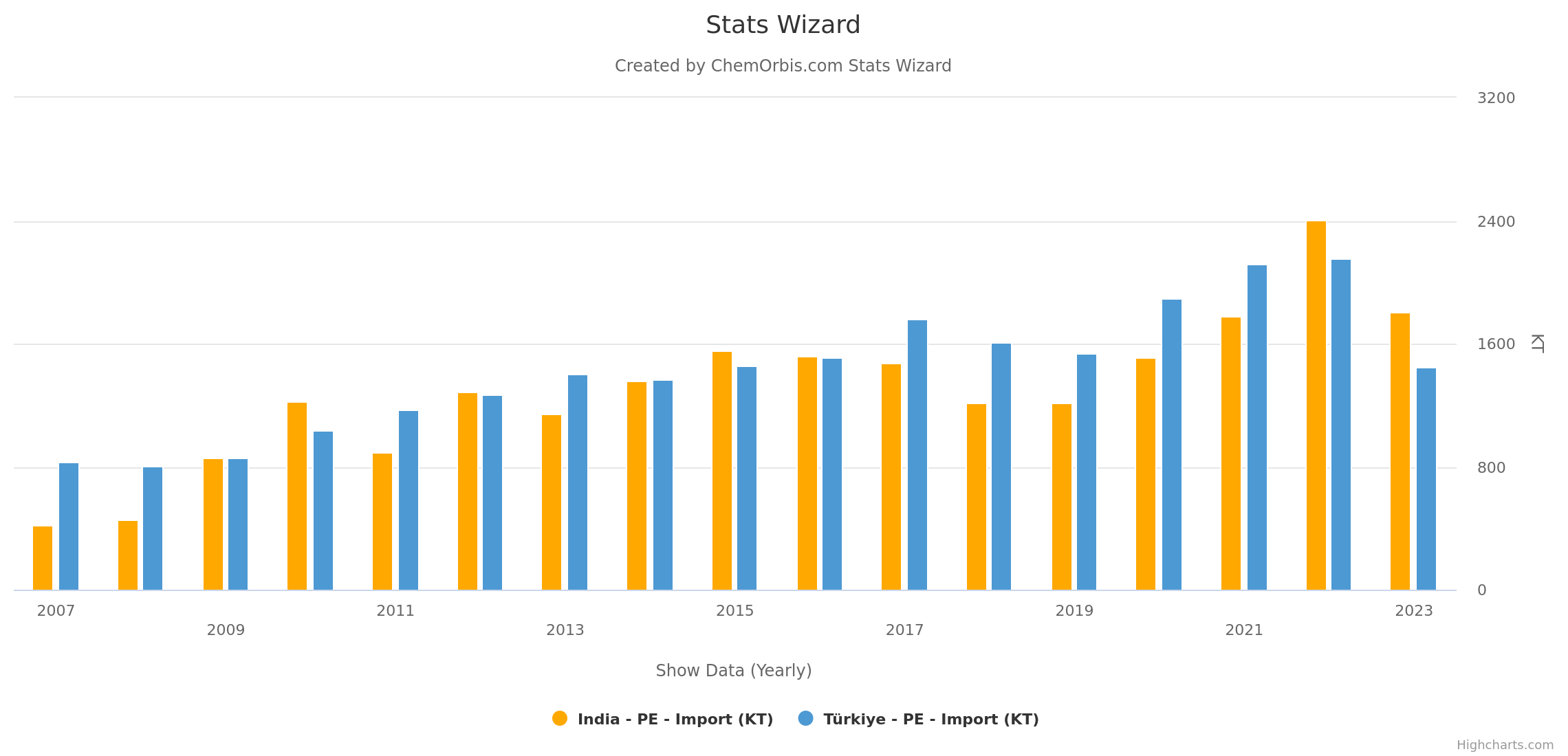 H1 PVC imports soar by 65% on year
ChemOrbis Stats Wizard also displays a yearly jump of 65% for PVC imports in the first half of the year to more than 1.6 million tons, already making up of the 86% of last year's full imports. This is despite the fact that the Q2 imports fell around 32% from the all-time high Q1 imports at around 1 million tons.
Based on the performance of the first half of this year, it won't be hard to predict that PVC imports will smash the previous record of 2019 with 2.1 million tons by the end of 2023.
Sharp growth of PE and PVC demand is mainly attributed to infrastructure work
India's buying appetite for PE and PVC is mainly attributed to the country's ongoing infrastructure works. As a player in Delhi put it, "This has been especially so for HDPE, the pipe-grade material in particular. This is the same reason PVC imports have also been rising. We think that the pipe-grade material has been in demand mainly because of the large-scale highway maintenance and expansion works all over India. We expect a total of about 250,000-300,000 tons of PE to be imported in September too along with 100-150,000 tons of PP."
Apart from infrastructure works that boosted demand, another reason behind higher import PE volumes in the first quarter of this year was cited as maintenance turnarounds of HMEL, GAIL, and Indian Oil.
Other players also underlined a possible impact of reprocessed polymers, and added, "There's also a lot of reprocessed material coming into India, which also may be included in the overall data. India gets reprocessed polymers from Japan and from Southeast Asia."
H1 PP imports up 35% yearly
Data show that the country's overall PP imports in the first six months of this year posted a 35% increase compared to the same period of last year to stand at 821,500 tons.
If January-June data is annualized, India's PP imports may head for a yearly increase of 10% for 2023 or at least stay adjacent to the previous year, which was a record-high at around 1.4 million tons based on ChemOrbis Stats Wizard.
More free plastics news
Plastic resin (PP, LDPE, LLDPE ,HDPE, PVC, GPS; HIPS, PET, ABS) prices, polymer market trends, and more...