Supply concerns push propylene prices higher in Asia, Europe, and the US
In Asia, Europe, and the US, spot propylene prices have been following a firming trend since November 2016, according to weekly average prices on ChemOrbis Price Wizard. Supply concerns have resulted in higher spot prices while better demand from downstream markets ahead of the maintenance season has supported the stronger sentiment in Europe.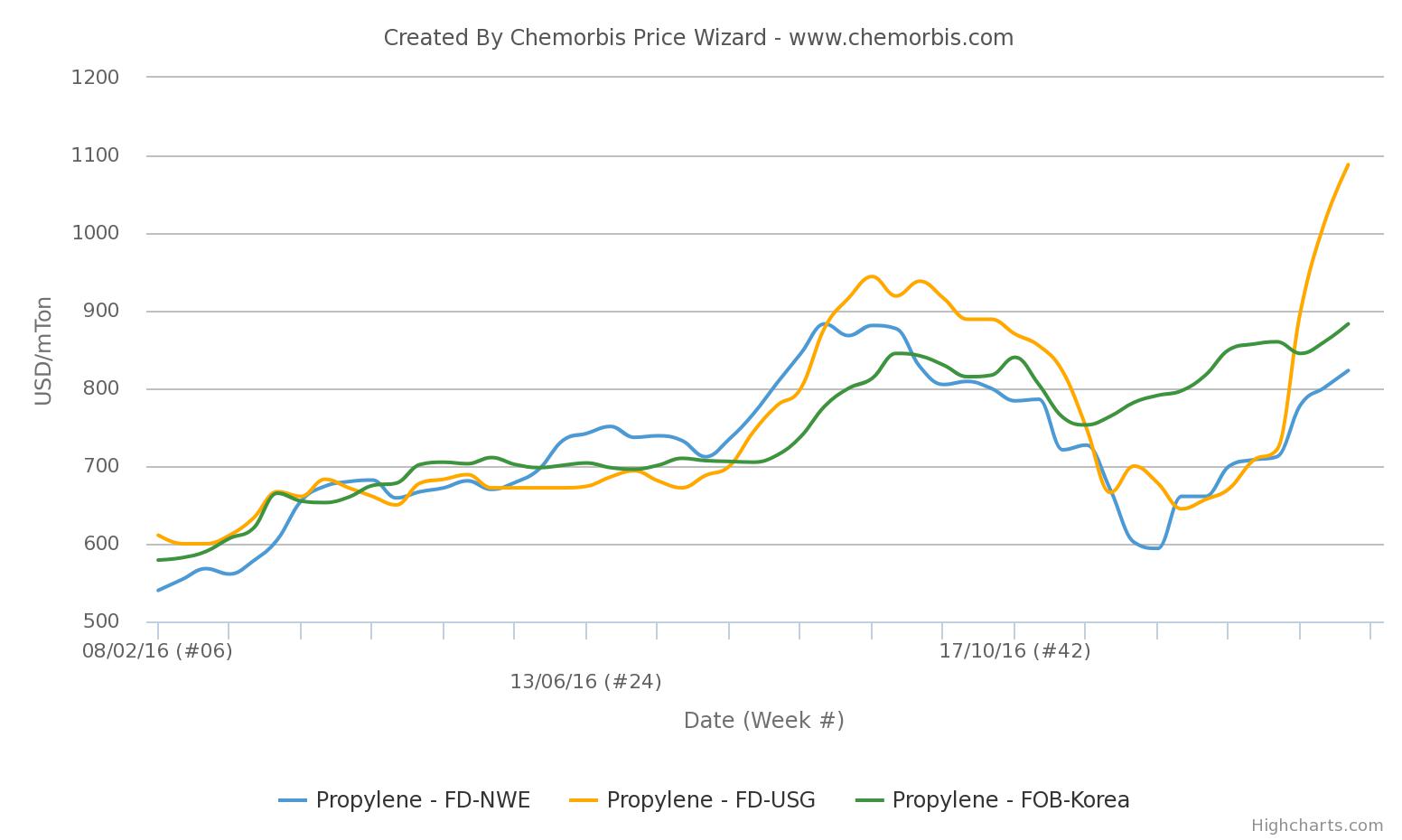 In the US, spot propylene prices have posted significant hikes recently, resulting in a 10-cent ($220/ton) increase from December in the monthly monomer settlements for January. The monthly January propylene contracts have been fully settled at $915/ton (41.5 cents/lb) FD USG for polymer-grade propylene and at $882/ton (40 cents/lb) for the chemical grade.
Players attributed higher spot prices to some production issues at the US suppliers' plants. According to ChemOrbis Production News, Exxon Mobil shut its olefin complex in Baytown, Texas which has a production capacity of 800,000 tons/year. In addition, Enterprise Products Partners experienced an upset at its Splitter II propylene unit at Mont Belvieu, Texas.
In Asia, spot propylene prices are currently reported at around $890-895/ton on a FOB Korea basis, up about $30-35/ton from the beginning of the year, supported by several maintenance shutdowns in the region in the January-April period. Taiwan's Formosa and South Korea's Sk Global are among the producers that are mulling turnarounds at their propylene units in the March-April period while China's Jiangsu Shenghong's 385,000 tons/year propylene capacity is currently disabled.
In Europe, spot propylene costs have also been supported by the stronger demand from the PP markets amidst the upcoming shutdowns at major suppliers' crackers including Exxon Mobil, Dow Chemical, Total and Shell that are expected to undergo simultaneous maintenance turnarounds in the February-May period. Players reported that buyers sped up their PP purchases due to the market talk regarding higher prices in February.
A source from West European producer said, "We closed January PP contract deals up €50/ton from December and we are currently looking for new hikes considering rumors of a new round of increases in February. Demand has improved with buyers purchasing fresh quantities on bullish talks."
European propylene costs have increased around €110-110/ton since the beginning of this month to be reported at around €780-785/ton on an FD NWE basis.
To see further details about the most updated news of new capacities as well as shutdowns and restarts around the globe at a glance, please follow
ChemOrbis PP Production news
.
More free plastics news
Plastic resin (PP, LDPE, LLDPE ,HDPE, PVC, GPS; HIPS, PET, ABS) prices, polymer market trends, and more...