Turkey's PP, PE markets at a standstill amid lingering downturn
PP and PE prices have mostly recorded a new series of price cuts this week in Turkey in tandem with relentless drops in major global markets. The low season, coupled with a lack of supply concerns, has kept purchasing volumes hand to mouth ahead of the rerun of the elections in Istanbul on Sunday.
S. Arabian PPH prices plunge by $80-100 in a month
Turkey's import PP market has followed a bearish path since mid-May as buyers restricted their purchases due to seasonal factors. This was also in line with the downward trend in China driven by high domestic stocks and intensifying trade war with the US.
According to the
New ChemOrbis Origin Based Price Indexes,
Saudi Arabian homo-PP raffia and fibre prices have been down by almost $100/ton and $80/ton, respectively on a weekly average since then.
"Fibre season already faded while we expect our end product exports to lose steam due to the approaching summer holidays in Europe," a carpet manufacturer noted. A global trader affirmed, "We were ready to accept lower bids from our customers taking the unpromising demand into account. Buyers are even shying away from engaging in prompt materials these days."
PE faced pressure from competitive US, Asian cargos
Import PE offers posted further declines as rapid drops for American origins forced regular Middle Eastern suppliers to apply new drops. According to the newly launched
ChemOrbis Origin Based Price Indexes,
LLDPE and HDPE film recorded the sharpest decreases, as they shrank by $100/ton since mid-May against a drop of $55/ton for LDPE film. "Relatively limited supply for LDPE kept the decrease amounts in check," opined players.
Plus, Indian and Korean offers exerted extra pressure on sellers as they offered competitive edges for LLDPE, HDPE film and HDPE pipe 100 due to Asia-led price cuts.
Packagers said, "We plan to hold onto our cautious stance since fluctuations in USD/TRY parity are highly probable next week following the election. On the global side, the sustainability of the recent recovery in China based on higher futures and energy markets will remain a factor to watch next week along with the imminent outcome of G-20 meeting with the US."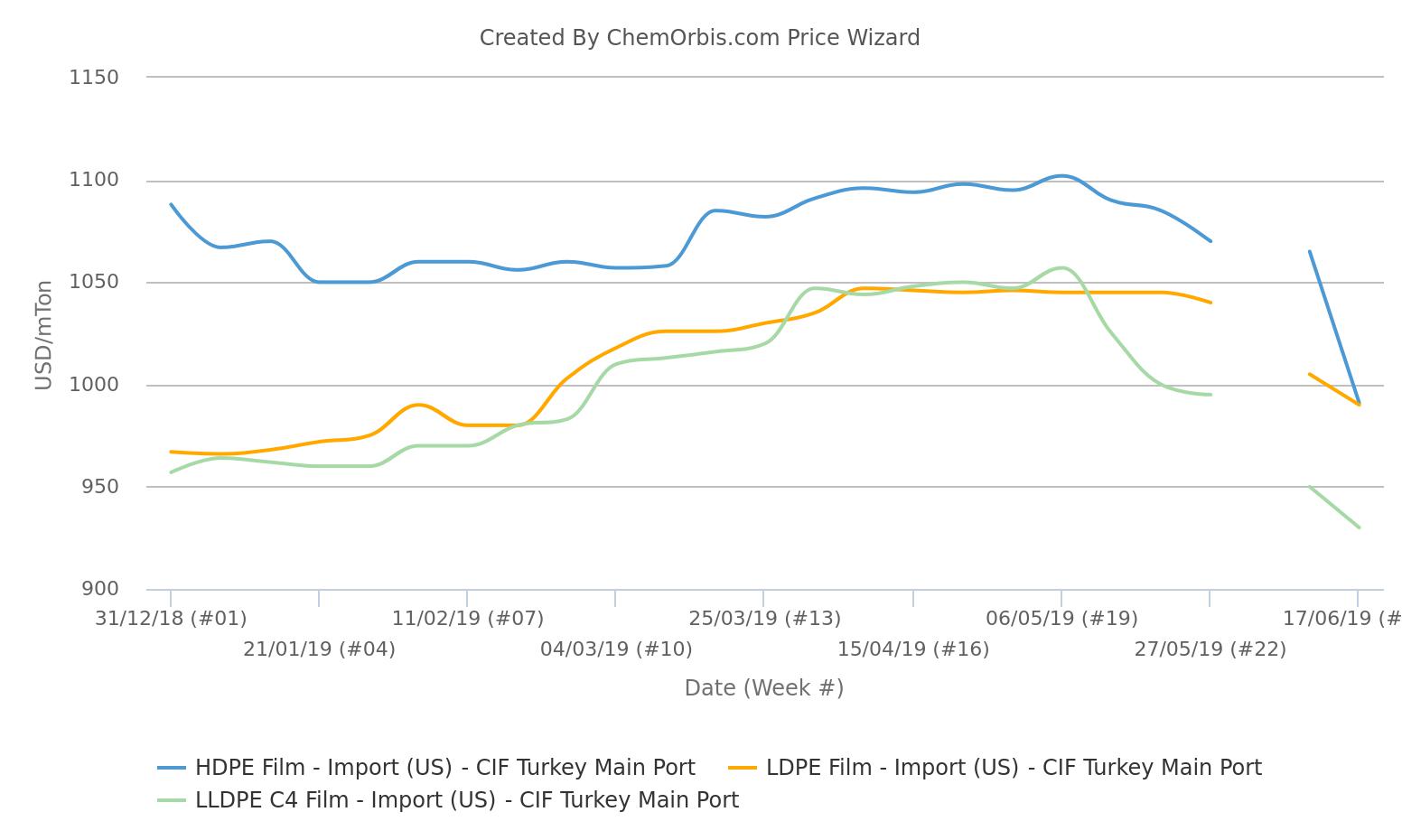 More free plastics news
Plastic resin (PP, LDPE, LLDPE ,HDPE, PVC, GPS; HIPS, PET, ABS) prices, polymer market trends, and more...