Turkey's PP, PE markets brace for April drops, eyes on economy and logistics
Polyolefin prices in Turkey have followed a softening trend since the second half of February tracking the weak trend in virus-hit China. A lack of sufficient supplies for certain PP and PE grades amid scheduled turnarounds in the Middle East kept discounts in check despite unsupportive costs.
Recently, most April expectations have been shaped by a series of bearish factors including historic-low oil futures, gloomy outlook for consumption and fears of a global recession, all driven by the COVID-19 pandemic.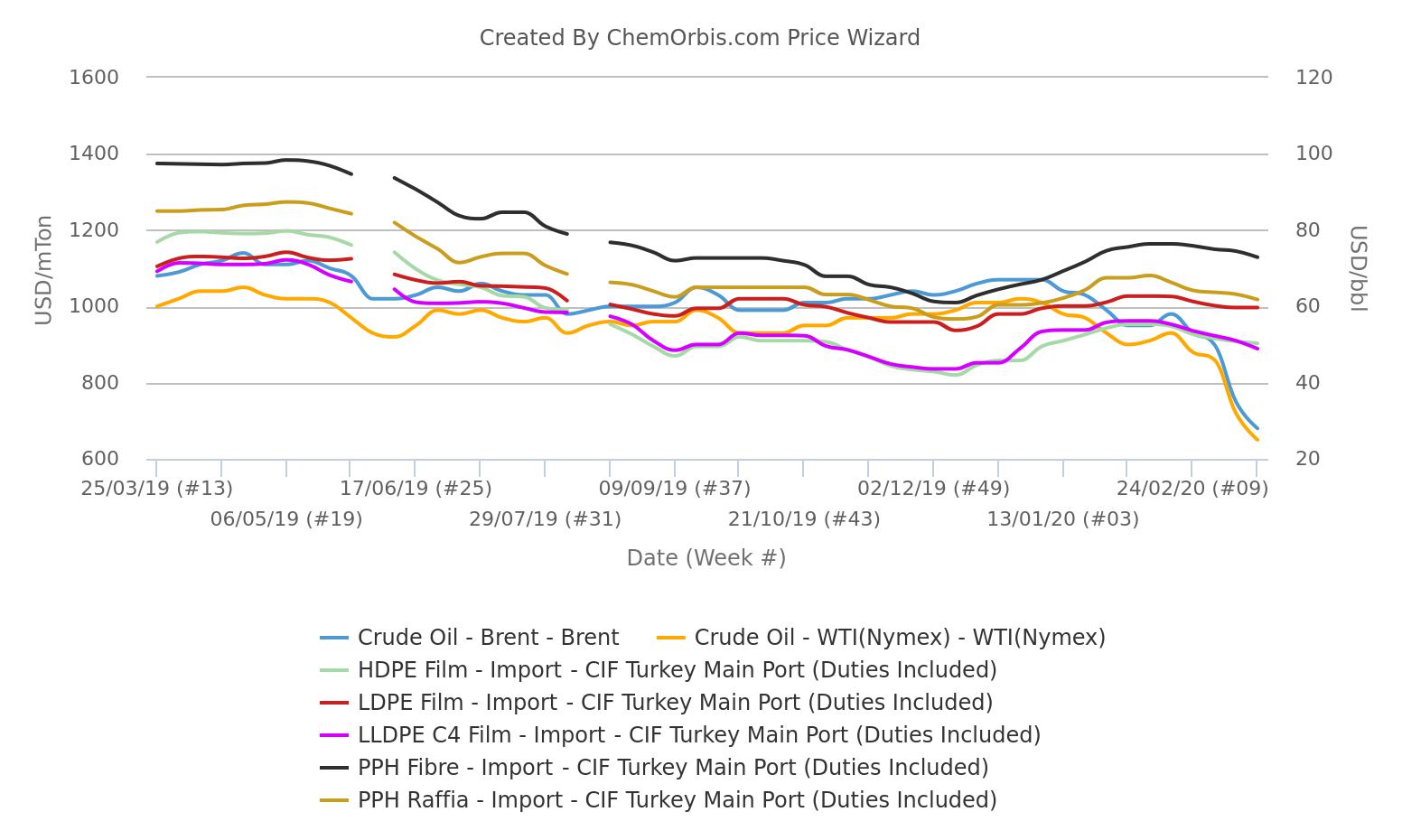 Drastic falls in upstream reinforced bearish expectations
Global
crude benchmarks
hit their lowest levels in almost 2 decades by the middle of this week. Oil prices recorded relentless declines under the pressure of mounting woes over demand and global recession amid the ongoing COVID-19 pandemic, although they pared some of their losses on Thursday.
According to ChemOrbis Price Wizard, the average
spot naphtha prices
in Europe and Asia hovered around their lowest levels since early 2007, when ChemOrbis started to collect data.
"The premium of olefins over naphtha significantly grew which means propylene and ethylene prices should come down at some point. We expect noteworthy decreases in April monomer contracts in Europe which would lead to unavoidable drops in downstream PP and PE markets," opined a large scaled converter in Turkey.
According to ChemOrbis data, the propylene-naphtha spread has hit $625$/ton recently, the widest gap since June 2019. Similarly, the delta between ethylene and naphtha grew to almost $500$/ton, the largest spread since September last year.
Textile industry has been hit by cancelled orders
The pandemic has forced several nations including
Italy
, Spain, France, Canada and the US to issue lockdowns and severe measures as part of their efforts to contain the outbreak.
Carpet converters in Turkey report that export orders have started to be cancelled due to the restrictions and virus measures across the board. "Some PP fibre converters in the southern region are mulling over reducing their running rates or even closing their factories temporarily," said players.
Moreover, several clothing brands decided to close their stores temporarily in an attempt to contain the spreading of virus amid a rising number of cases in Turkey. Thereby, domestic consumption is set to reduce over the coming days with some shopping malls also being shut for an uncertain period.
"PP fibre is under stronger pressure considering the recent situation. Prices are currently carrying a premium of around $110$/ton over PP raffia, which will most probably narrow in April," a manufacturer noted.
Yet, packaging industry sees buoyant demand
On the other side of the coin, buying interest for certain grades of PE may possibly remain buoyed by increased demand towards packaging mainly for food, sanitary and medical products over the coming term. "HDPE blow moulding may not see major drops as buying appetite appears better than other grades, for at least prompt or nearing materials," affirmed traders.
Logistic issues remain a concern, add to uncertainty
Widespread lockdowns and a lack of containers led to
a jump in global freight rates
, while players do not foresee a solution about disruptions to transportation any time soon. Some traders in Turkey opined, "Higher freight rates may cushion the unpromising demand scene to some extent. Supply may not loosen over the near term, which may prevent dramatic declines in polyolefin prices."
Turkey stepped up virus measures, unveiled economic stimulus
The government announced several measures against the negative effects of the COVID-19 outbreak on economy while
TRY100 billion ($15.4 billion) stimulus package
was also revealed. The economic measures aim at supporting manufacturers and other companies during this unusually challenging period.
More free plastics news
Plastic resin (PP, LDPE, LLDPE ,HDPE, PVC, GPS; HIPS, PET, ABS) prices, polymer market trends, and more...