Turkey's import PP market hovers around 3-year low as activity stays depressed
Waning demand in Turkey has exerted a visible pressure on PP sellers moving into the final months of the year, leading to renewed price cuts. November has been the seventh successive month that the bearish run persisted, disregarding short-lived hike attempts back in early October on the Aramco-driven oil spike.
PP raffia prices sank 19%, fibre 22% since May
According to the weekly average data from ChemOrbis Index, homo-PP prices have posted sizeable losses during the last 7 months. Cautious demand amid the ongoing economic woes sent prices to their lowest levels since August 2016 for raffia and December 2016 for fibre. Since May, the average raffia and fibre prices have dipped by 19% ($243/ton) and 22% ($305/ton) respectively.
Delta between raffia and fibre narrowed to a year-low
According to the weekly average data from ChemOrbis Price Index, the gap between import PP raffia and fibre has shrunk to less than $50/ton, recently. This pointed to the narrowest premium of fibre over raffia since November 2018, data suggested.
A player opined, "The PP market shows no signs of a reversal in direction. However, the eroding premium over raffia may cause traders to reduce their fibre allocations to Turkey in the coming period."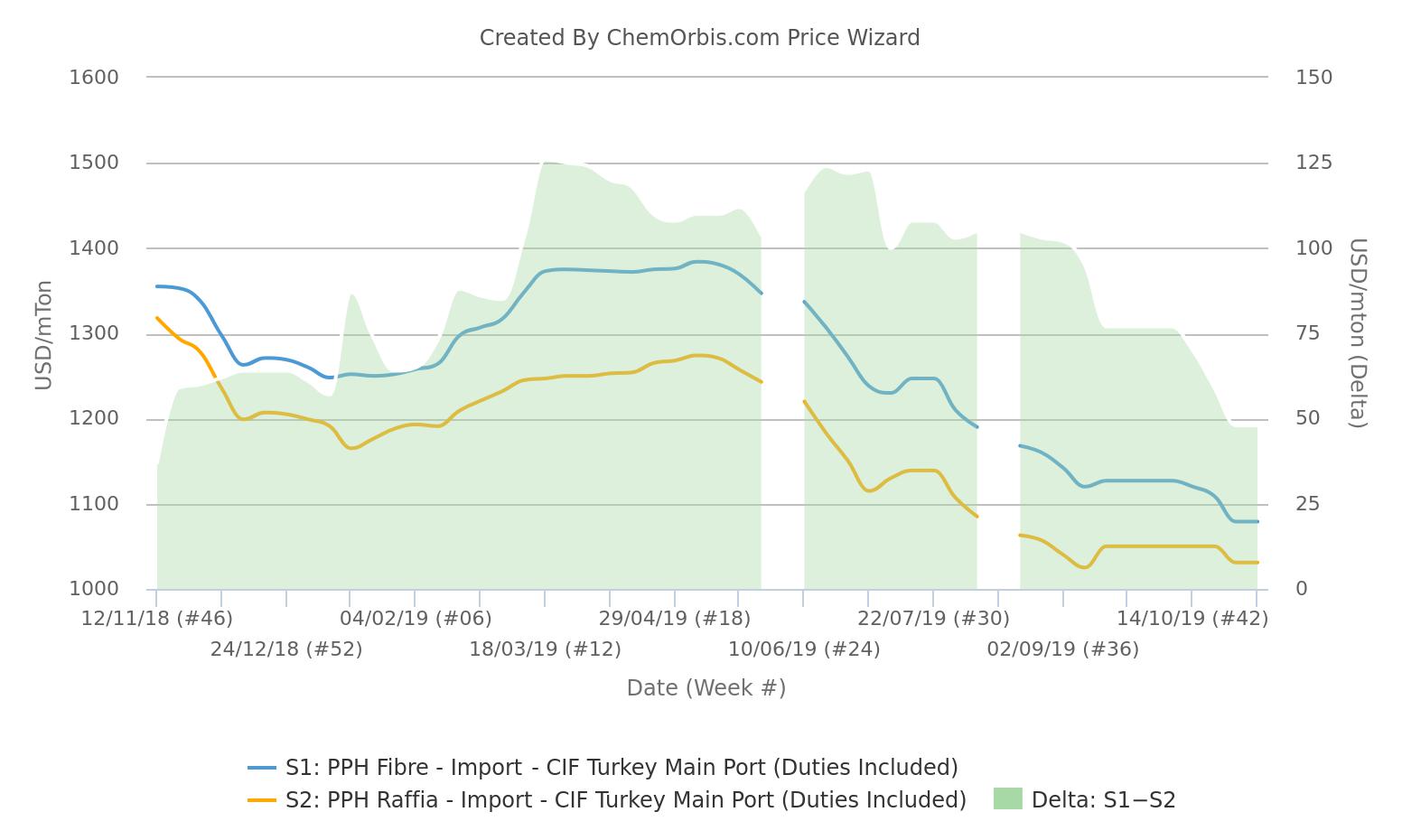 Turkey's lack of premium to China kept drops in check
Despite the resistance built on the buyers' side based on dull end markets and smooth supply, PP sellers refrained from conceding to dramatic declines this week. They pointed to the fact that Turkey has been trading slightly below China's import PP market as a justification of their policy. According to ChemOrbis data, Turkey's discount to China currently stands at $18/ton.
*Right click the image and open in new tab to view the full-sized snapshot.
Saudi Arabian homo-PP offers eroded around 2% over the past one month, as can be seen from ChemOrbis Product Snapshot above.
"Buyers' bids have been standing $30/ton below the current offers since November started. The prevailing prices are failing to grab buying appetite, obviously. Nonetheless, prices in Turkey already lack premium over import offers to China, which limited the size of discounts for Saudi and Russian cargos this week," a large trader highlighted.
A manufacturer from the southern region noted, "We are aware that Saudi Arabian sources are resisting to cut their offers. However, we can afford to wait and obtain more competitive prices in the coming weeks, counting on our adequate inventories until early next year."
PP may be set for a tug-of-war between buyers and sellers
The short-term sentiment for PP remains on the weaker side in Turkey based on comfortable supplies amid discouraging buying appetite. Buyers are mostly avoiding committing to long-distance material these days.
Plus, the PP markets are drawing a bearish picture both in China and Europe, which is also contributing to the weak projections in Turkey.
Yet, it remains to be seen whether or not PP will be prone to larger price cuts considering the already poor netbacks in Turkey. Players concurred, "Demand tailed off for almost all polymers in Turkey. Yet, PP is faring better than PE despite the stand-off between converters and traders. The market is free from the intensifying pressure of aggressive American prices unlike the case in PE."
More free plastics news
Plastic resin (PP, LDPE, LLDPE ,HDPE, PVC, GPS; HIPS, PET, ABS) prices, polymer market trends, and more...