Turkey shattered as PP prices shoot up to surreal levels
PP prices have rallied unprecedentedly in the last two weeks, appalling many players in Turkey. Steep increases coupled with robust demand in Europe and America lighted the touch paper while a wave of production issues exacerbated the severity scale of the run-up.
Why did the uprising go off the rails?
The market made a strong start to February as expected amid limited supplies from the Middle East and
an uptrend in Europe
amid supportive costs and low producers' stocks.
Nevertheless, the majority of the market had projected smaller gains citing an already high premium over China where players were readying to leave their desks for the Lunar New Year holidays.
However,
increases came far beyond the expectations
due to a series of reasons.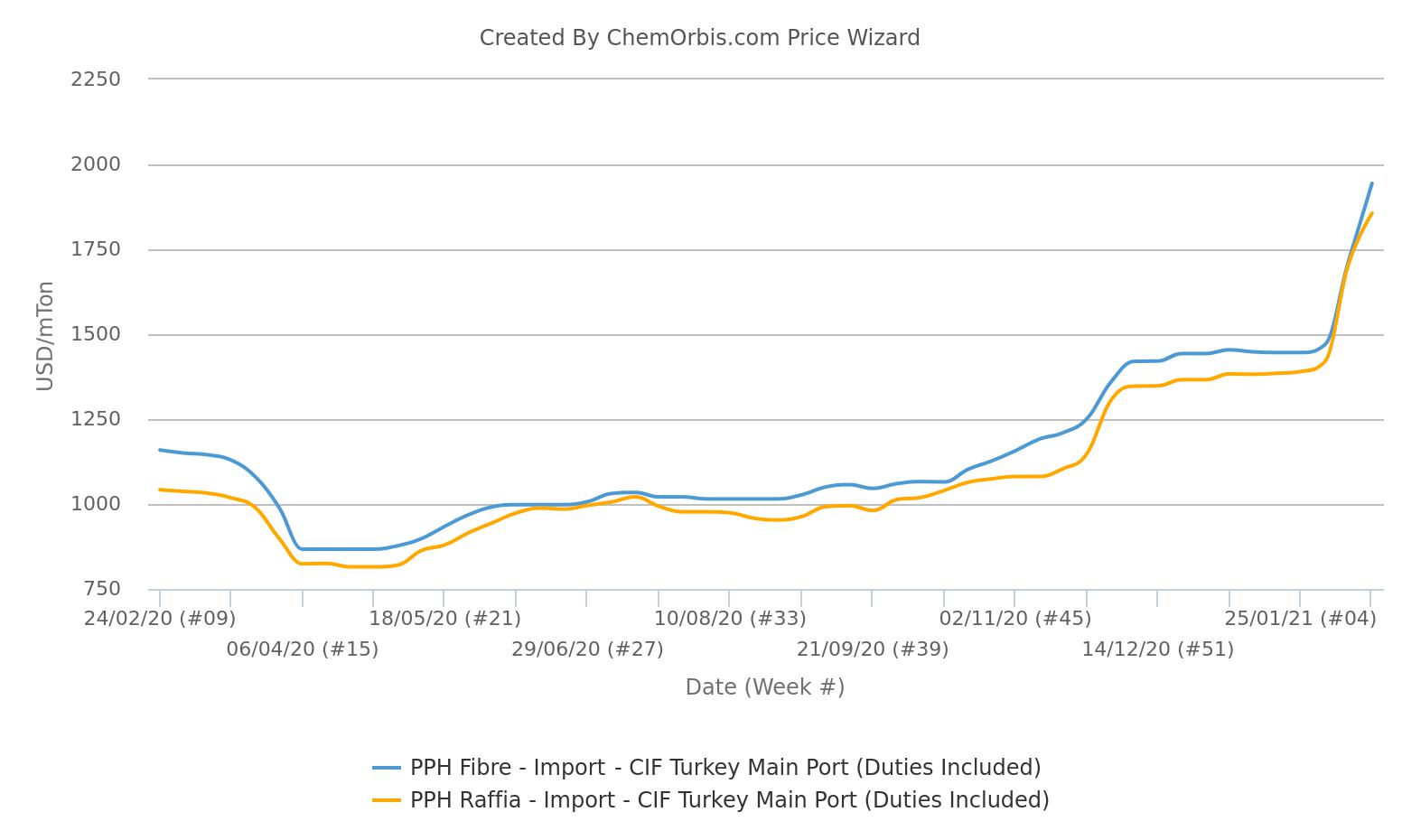 Material flow to Europe and America left Turkey empty-handed
Juicy netbacks and buoyant demand in Europe and America prompted many sellers to direct their PP allocations to these markets. This left Turkey with inadequate volumes at a time when the flow of material to the country was already modest amid planned turnarounds in Saudi Arabia for March.
Manufacturers said, "We heard that some European producers had to call off the previous orders from their Turkish customers for February deliveries. This is due to an acute shortage in the region."
Supplies in Europe dried up due to planned/unplanned turnarounds at major producers including Total, Ineos, LyondellBasell, ExxonMobil, Borealis and Unipetrol. Multiple force majeures deepened woes as the region's PP market was finally boosted after lagging behind a global upsurge in the previous months.
New wave of production hiccups in the US rocks global supply outlook
Multiple petrochemical producers were forced to declare force majeure on supplies from their US plants as
freezing weather took its heavy toll on production across the US Gulf Coast
. Ice storms have caused power outages and several shutdowns in Texas since the beginning of this week.
LyondellBasell, Formosa Plastics Corporation USA, INEOS Olefins and Polymers USA, Shell Chemical and Braskem have been among the
major producers to take their PP facilities or upstream lines offline
so far.
Hopes for an easing in logistic crisis fizzled out
Earlier projections that a shortage of containers and vessels would ease once China goes on holiday by mid-February fizzled out. Instead, the
global shipping turmoil continued to penetrate all commodity markets
amid virus-induced disruptions to port operations. Sky-high freights were another reason behind the bullish run in
most polymer markets
.
Holiday lull in China was cut short under the shadow of pandemic
Turkish PP consumers traditionally prefer to go to the sidelines ahead of the New Year holidays in China as festivities are known to dampen activity in the country. However,
demand from China is expected to return earlier than expected
since traveling was curbed by COVID-19 this year. Manufacturers will probably resume operations soon with sellers already expressing higher sell ideas.
Prompt PPH, PP copolymer markets hit historic-highs
Traders were caught unprepared to the recent upsurge in Turkey while booming inquiries for prompt material spurred hefty hikes in the distribution channel. PPH and PPBC injection prices skyrocketed by $350-500/ton from last week. The total increase reached $742/ton (%49) for PP raffia and $635/ton (32%) for PPBC inj. when compared to early February, the weekly average data from ChemOrbis suggest.
Some distributors lifted offers hourly
Buyers and traders commented, "Any prices that are given can be subject to change in a day or even hour. This is a black market now and the prevailing levels will not be sustainable at some point."
Buyers paid inflated levels to fulfill orders in hand
The recent series of hikes caused a jitter among players while buyers have paid inflated prices, particularly if they need urgent material. A converter said, "Offers were rare and only for small quantities. We had to accept record high prices to sustain our production.
The impact of
the appreciation of Turkish lira against the USD
was mitigated by overwhelming hikes in raw material costs."
How longer can the market go through this chaos?
For the short term, the ongoing freight crisis and consecutive plant issues do not leave much chance for a quick relief in shortness. Market observers do not project a normalization in logistic mishaps and shipping costs before July.
A trader opined, "This chaotic atmosphere may persist for another 30-45 days, in the best scenario. Prices have hit surreal levels which will hinder demand in the longer run."
Manufacturers idled factories to cope with merciless uptrend
It has been quite hard times for PP consumers, needless to say. Some manufacturers in the southern region started to reduce their running rates or mulling over closing factories temporarily. A large buyer said, "We plan to avoid losses by this way as not manufacturing is more profitable under these circumstances. We heard some buyers started to sell raw materials instead of converting them into products with which they can not compete in export markets."
More free plastics news
Plastic resin (PP, LDPE, LLDPE ,HDPE, PVC, GPS; HIPS, PET, ABS) prices, polymer market trends, and more...