Türkiye's PP and PE markets extend losses into June, liquidity issues persist
Polyolefin markets started June with a new wave of price cuts, while demand remained muted as cash constraints prevailed in Türkiye. Both PP and PE prices moved below new thresholds, dragged down by global bearishness in upstream and downstream markets, let alone sluggish derivative markets at home.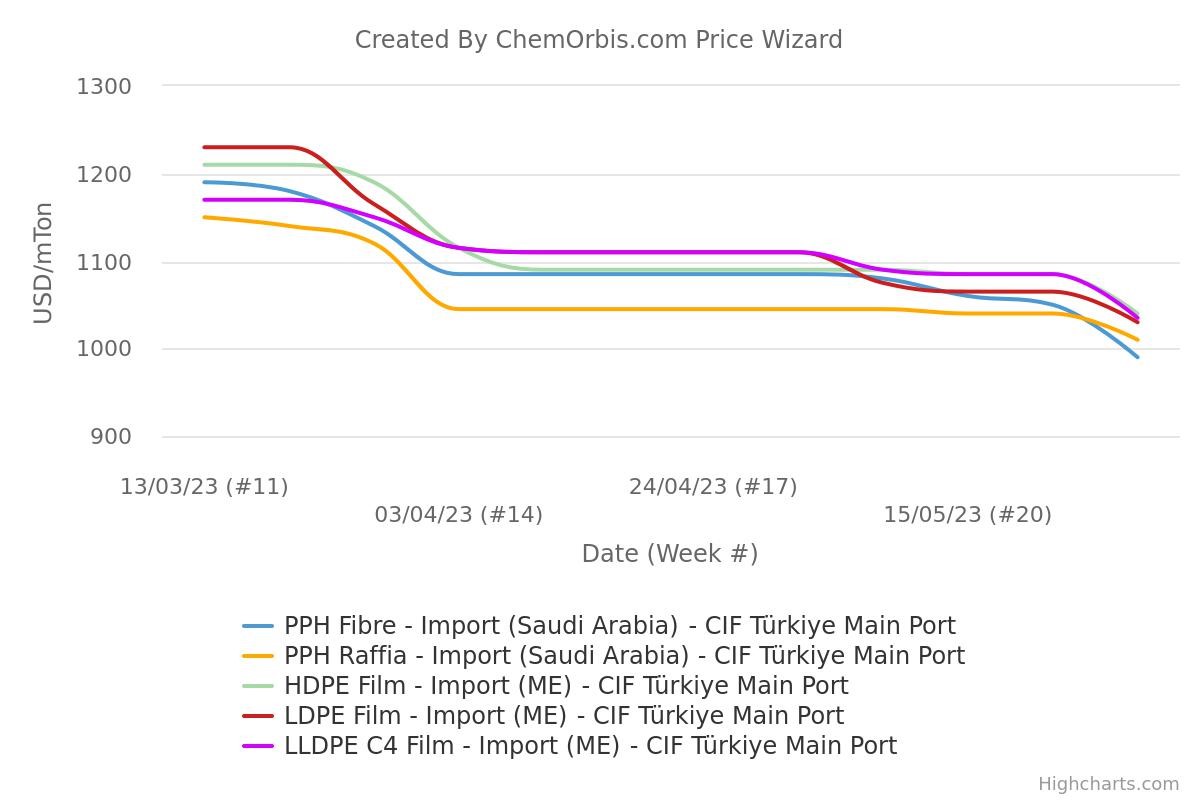 Players still grapple with tight USD availability
Concerns over reduced downstream demand at home and abroad persisted into June. Plus, the recent increase in the USD/Lira parity, which neared 20.80 during Thursday sessions, and limited credits from banks crippled polyolefin demand from Turkish consumers after the run-off election on Sunday. 
Meanwhile, some players maintain their hopes for relief from cash flow issues in the medium term, while they expect the USD/Lira currency to rise gradually rather than jump.
Spillover impact from multi-year lows in China
The slump in China's polyolefin markets has deepened in the past couple of weeks, while import prices have recently moved to their lowest levels since 2020 on a weekly average, ChemOrbis data revealed.
Saudi Arabian PP raffia prices were down to as low as $830/ton CFR China on the low end early this week, with prices readying to test $800/ton CIF in the near term. This has caused more players to think that PPH prices are also prone to notable drops and will hit below the $1000/ton mark CIF Türkiye soon.
Similarly, Middle Eastern PE prices touched as low as $900-940/ton for LDPE and LLDPE, while HDPE film was down to $930-960/ton CFR China. The news of the accelerating downswing in China added to the bearishness in Türkiye. 
PP fibre breaks below $1000 CIF for first time since Dec 22
Steeply lower PPH prices in China exacerbated bearish expectations among Turkish PP players this week. More players were convinced that a wave of visible drops was ahead, and Saudi Arabian suppliers would have no chance but to bring their prices to below a new threshold to spur buying interest.
Saudi Arabian PP raffia and fibre prices started to be talked in the low-$1000s/ton from late last week. This week, PP fibre broke slightly below this threshold to be confirmed at $980-990/ton CIF Türkiye, subject to 6.5% duty cash. Offers for this grade have been losing their premium over raffia gradually since last month as demand has fared worse than PP raffia.
According to the weekly average data from ChemOrbis, Saudi Arabian PP fibre had last stood below $1000/ton CIF in December 2022.
A large buyer opined, "Sellers usually have a chance to sell raffia cargos to other outlets whereas their destinations for fibre are quite limited. This must be the main reason behind faster falls for PP fibre."
Raffia consumers expect prices to follow suit with some of them believing that prices may touch $950/ton CIF as June proceeds. A buyer noted, "Sack manufacturers have been running their factories at 50-60% capacity. Buyers have been receiving their previously purchased cargos with $200/ton higher prices while the ones with low stocks may still mull over buying."
Middle Eastern PE succumbs to aggressive US offers
Middle Eastern prices were assessed $30-50/ton lower from last week at $1020-1040/ton for LDPE, $1020-1050/ton for LLDPE C4 film and $1020-1060/ton for HDPE film CIF Türkiye, subject to 6.5% duty, cash. A Saudi Arabian major's new offers, which also indicated drops, formed the high end of the LLDPE and HDPE film ranges and lacked interest, while most regional sellers have yet to unveil their June offers.
Sources from regional producers signaled that prices may move below the $1000/ton threshold so long as demand stays muted. "June will be a short month in terms of working days due to the Eid al-Adha holiday. Sellers may respond to lower bids to boost their sales," one of them admitted.
Projections remain bearish in the near term based on lethargic activity in Asia and Europe along with falling upstream ethylene costs and comfortable supply, let alone the persisting pressure from sliding ex-USG offers. "We will probably see competitive European PE offers in the coming days Germany's entering recession suggests that clouds over the region may not scatter any time soon," opined a player.
More free plastics news
Plastic resin (PP, LDPE, LLDPE ,HDPE, PVC, GPS; HIPS, PET, ABS) prices, polymer market trends, and more...